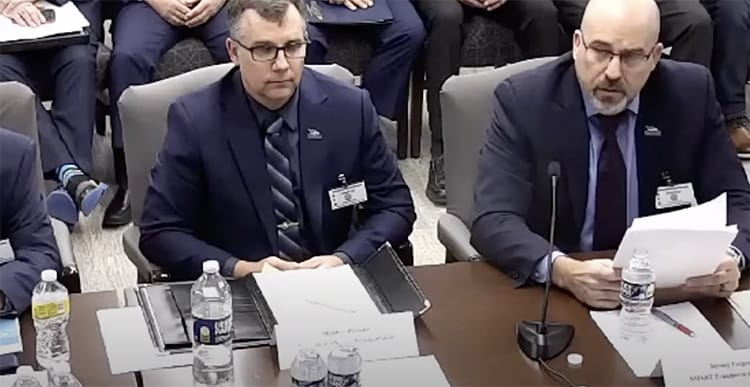 Dear Brothers and Sisters,
On April 26, I testified before the Surface Transportation Board (STB) to shed light on the devastating effects Precision Scheduled Railroading (PSR) has had on rail labor and rail customers. Joining me in testifying on behalf of your union were General Chairperson Matt Burkart (GCA-341 – BNSF), Local Chairperson Steve Groat (Local 329 – Boone, Iowa) and Local Chairperson Chris Bond (Local 513 – Gainesville, Texas). These men did an outstanding job in describing to the STB just how egregious the effects of the Class I railroads' PSR scheme have been on rail customers and employees.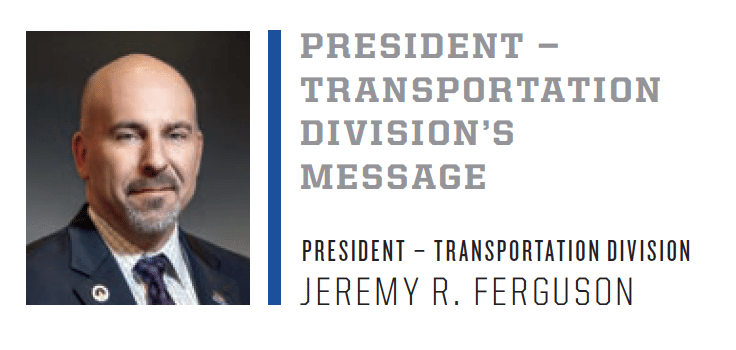 At the hearing, I testified that the Class I carriers are a main contributor to the supply-chain issues plaguing the country. From the appalling attendance policies to the carriers' refusal to recall furloughed employees, to their glacial pace of bringing locomotives and equipment out of storage to meet the demands of their customers, the railroads have hamstrung themselves into a service and workforce nightmare that has contributed to inflation and hurt our nation's economy.
The carriers say that longer trains will fix the problem. However, longer trains ARE part of the problem. When a train is so long that it does not fit in a siding and causes congestion in an area, blocking public crossings for hours on end, then that is a problem. When a train is too long and will not fit into yards without multiple moves, that is a problem. When a train has an issue en route and the conductor and engineer cannot communicate via radio because they are not designed to function at these extended lengths, then THAT IS A PROBLEM. Not only that, but it's a problem that is easily fixed by one of these three options – 1. The carriers operate trains that properly fit in the pre-existing track structure; 2. They build longer sidings and yard tracks; or 3. The government creates and enforces regulations that makes it illegal to run trains that do not fit current rail infrastructure, generate enormous delays and safety issues for the general public by blocking crossings and that do not exceed the operating limits of safety equipment, including handheld radios, end-of-train devices and braking systems to name but a few. These common-sense solutions we put forth at the STB could help relieve congestion and enable goods to get from Point A to Point B much quicker. With the current bottlenecks that carriers have caused, goods are held up for days or longer while the delays wreak havoc on businesses and the economy. More than 20 shippers and affiliated groups echoed our testimony to the board, bringing more evidence that PSR is terrible for our nation.
What's more, at a time when the vast majority of U.S. employers are providing incentives and changes to retain and recruit employees, the rail carriers institute backwards attendance policies that have made life so unbearable for our members that they are leaving in droves.
What was once the gold-standard of middle-class jobs can no longer compete with places that pay less, but the quality of life is improved. It used to be unheard of for a vested railroader to leave the industry mid-career. Now it is starting to become the norm. New hires? They see what is going on and leave, sometimes before they even finish training as they figure out quickly that the rail carriers simply do not care about providing any type of quality of life to its employees. All because of the draconian policies put in place as a result of PSR and railroads' efforts to do more with less.
I told the STB that PSR is about corporate greed and lining shareholders' pockets. I testified with other members of labor and customers about the harm PSR has done to employees, businesses and the country as a whole. Chairman Martin Oberman, STB Member Robert Primus and the rest of the board heard us loud and clear, and I'm confident they will stay vigilant and do all they can to mitigate the enormous damage done by the carriers and their profit first, employees and customers last mindset.
After the hearing, the STB took a small but positive step May 6th and ordered BNSF, CSX, NS and UP to develop service recovery plans as a result of the severe deterioration caused by PSR. On June 13th, the STB issued another order directing the carriers to correct what the STB says was deficiencies in the submitted plans. It's a start. But sadly, there are no easy fixes to what the carriers have done. We are cautiously optimistic of what the future holds and applaud the efforts of the STB.
At the hearing, I let the representatives know what was really going on, and I further reiterated that PSR is the main culprit behind the safety issues we're seeing on the railroad today.
I took my testimony a step further and complained directly to Congress during the freight railroad safety hearing held June 14 by the House Subcommittee on Railroad, Pipelines and Hazardous Materials. At the hearing, I let the representatives know what was really going on, and I further reiterated that PSR is the main culprit behind the safety issues we're seeing on the railroad today. I showed them the numbers — the loss of life and career-ending on-duty injuries — that have increased since PSR has been implemented. I told them that we are past sounding the alarm. We have moved on and are screaming for help, and it is time for them to step up and do their jobs and rein in the railroads so that our brothers and sisters can make it home safely. Our lives depend on a safe workplace, and not one that has profits placed before it. I just hope and pray they heard me and the others from labor testifying with me before things get any worse.
Here's some good news: Finally, after 14 years, the Federal Railroad Administration (FRA) is putting into action a provision from the Rail Safety Improvement Act of 2008 requiring that the railroads implement "Fatigue Risk Management Programs." We have been telling anyone who'd listen for years that this key part of the law needed to be implemented, and the FRA under the Biden administration has finally heard us. The FRA posted a Final Rule June 13th to be effective July 13th, requiring railroads to develop and implement fatigue risk management programs approved by the FRA. This mandate also requires that the carriers MUST consult with and reach an agreement with affected unions on the contents of their plans. This gives us a direct seat at the table, and I can assure you that we will use this process to address safety issues including changes that must be made to attendance policies that push workers beyond exhaustion, destroy work-life balance and do not stop the epidemic of worker fatigue.
After 14 years, the Federal Railroad Administration (FRA) is putting into action a provision from the Rail Safety Improvement Act of 2008 requiring that the railroads implement "Fatigue Risk Management Programs."
As for contract negotiations, we participated in National Mediation Board (NMB)-mandated sessions with the carriers. After each session with the carriers making one insulting offer after another, the Coordinated Bargaining Coalition and the Brotherhood of Maintenance of Way/SMART Mechanical Coalition pleaded with the NMB for a proffer of arbitration to move things along. Finally, on June 15th, the NMB acquiesced and put forth a proffer. As going to arbitration means a binding contract would be put forth by an outside party, with no guarantee of an agreement that our members will find palatable, the United Rail Unions turned down the proffer of arbitration and are in a 30-day cooling off period at this writing. President Biden appointed a Presidential Emergency Board (PEB) to help settle the contract dispute and rail labor as a whole put forth a compelling case and we now await the PEB's recommendations. To learn more about the process set forth in the Railway Labor Act, I encourage affected rail members to visit our website.
We held our first bus-focused Regional Training Seminar (RTS) April 25-28 with LACMTA Locals 1563, 1564, 1565, 1607 and 1608 at the SMART Local 105 (sheet metal) hall in Glendora, Calif. The first three days consisted of local officer training that was similar but more robust than what has been previously provided at regional meetings. On the 28th, we held a town hall with a mock local meeting demonstration followed by a Q&A session in the afternoon where I, General Secretary-Treasurer Joe Powell, Bus Vice President Alvy Hughes and California State Legislative Director Louis Costa were on hand to answer any questions put forth by the members. I especially would like to thank Sheet Metal Local 105 for its hospitality, Local 1563 Treasurer Pete Lara for his assistance in making this event a success, Local 1563 Secretary Sandra Pineda for her assistance in donating leftover food to the local homeless shelter, and all who attended this meeting. I look forward to coming back.
If you feel that your local could benefit from a Regional Training Seminar, please contact your state legislative director or general chairperson and see the article on the following page about our new education efforts.
I want to take this opportunity to also remind members to sign up for an account on our new Member Portal. There you will find important updates on any upcoming meetings and the very latest about the national rail contract negotiations.
Stay safe everyone, God bless, and have a great summer!
Fraternally,

Jeremy R. Ferguson
President, Transportation Division