Statement from SMART General President Joseph Sellers, Jr. July 1, 2020
The International Association of Sheet Metal, Air, Rail and Transportation Workers (SMART) is pleased to endorse Vice President Joe Biden for President of the United States, following a unanimous vote of its General Executive Council.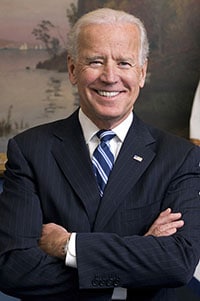 The endorsement was informed by discussions with and feedback from SMART members and leaders from across the United States who met to discuss SMART issues and which candidate best supports them. Over the past four years, SMART leadership has also met with all the major presidential candidates from both parties, including the incumbent president, and had meaningful dialogue with them regarding issues impacting SMART members.
SMART has engaged with and listened to our members from coast to coast about their views and opinions regarding our union, their jobs and current events that affect their future. This effort was launched to ensure members have a say in shaping the course of our union as it proceeds to advance the needs and viewpoints of the membership.
Biden has a long history of engaging with SMART members and working families in both the sheet metal and transportation industries. The endorsement decision was based on Biden's strong support of the concerns most important to our members, including the need for two-person railroad crews, retirement and pension security, protection of prevailing wages, and a prioritization of workplace safety. He also is dedicated to acting on a plan for real infrastructure work to enhance employment opportunities for current and future members in the industries SMART represents. SMART members have made it clear they can no longer wait after four years of empty promises for new infrastructure initiatives from the current administration.
From his early years working with local sheet metal workers as a County Commissioner in Delaware, to his frequent meetings with SMART Amtrak conductors during his commute back and forth to Washington, D.C., Joe Biden has been acutely aware of and engaged with the issues on the minds of our members.
After a series of discussions with Biden's campaign staff, where members' feedback and concerns were shared with the candidate, Vice President Biden took the time to respond with a video outlining his positions on the issues. His impassioned message in this video proves that Biden is the clear choice for our union and the membership.
SMART is highly engaged in the political process to ensure our issues are advanced and our members' livelihoods are protected. We also strive to ensure union leadership is transparent and clear with our members when it comes to decisions in the electoral arena. We work to advance our members' issues by advocating and educating on their behalf while supporting candidates, regardless of party, who stand with SMART members and for issues important to all working families.