Lloyd W. "Corky" Swert, who served as United Transportation Union assistant president in the 1990s, passed away at his home in Hillsdale, Mich., on Wednesday.
He was 86.
Swert, a member of UTU Local 2 in Toledo, Ohio, hired on as a brakeman for the New York Central Railroad and joined the union in August 1953. He held a number of leadership positions in the UTU until his retirement in the mid 1990s, including being elected as general chairperson of Conrail North in 1975.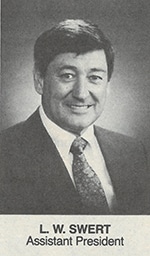 Swert was elected as a UTU vice president at the 1983 and 1987 conventions — he was unopposed in 1983 and re-elected by acclamation in 1987.
At the 1991 UTU Convention, he was elected to serve as assistant president, then retired at the conclusion of that term.
Swert made an appearance at the June 2004 UTU Regional Meeting in Reno, Nev., after a trying period for the union.
"All of us have to believe in ourselves and our union and be salespersons for the UTU," he told attendees. "Collectively we can handle any problem and straighten out any difficulty."
Swert is survived by his wife of 65 years, Nancy; two daughters, Lori (Richard) Amato of Mentor, Ohio, and Joy (Alex) Mismas of Santa Monica, Calif.; 12 grandchildren; 26 great-grandchildren; two sisters, Marthanna "Skip" Braman of Hillsdale, Mich., and Marilyn Bartaldo of Whitehouse, Ohio, and his beloved German shepherd, Trinka.
Visitation will be at 1 p.m. with funeral services immediately following at 3 p.m. on Sunday, Dec. 16, 2018, at VanHorn-Eagle Funeral Home, 40 S. Manning St., Hillsdale, MI 49242.
In lieu of flowers, memorial contributions are suggested to Hospice of Hillsdale County or Hillsdale Salvation Army.
View his full obituary on the Cleveland.com website.