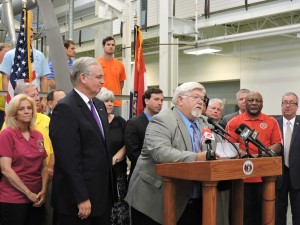 On Thursday, June 4, Missouri Governor Jay Nixon traveled to SMART SMD Local 36 in St. Louis to veto a toxic right-to-work for less bill passed by that state's legislature. With a fired up crowd of hundreds of onlookers, he noted that "For generations, the ability of workers to join together and bargain collectively for fair wages and benefits has formed the foundation of the American middle-class. This extreme measure would take our state backward."
Due to the Republican Party's lock on midterm elections, this year marks the first time that anti-worker groups were able to foster enough support in the state Legislature to send a bill to the Governor. The Legislature effectively shut down the last week of it's session after some GOP senators forced a vote on the measure.
Even with an overwhelming and record number of Republicans in the Missouri House and Senate, the bill's original passage still fell short of the two-thirds majority vote needed in both chambers to overturn Governor Nixon's veto. The Republican Party was split, with many members joining Democrats in opposition to the extreme legislation.
To override the veto, the Republican-controlled Legislature would need 23 votes in the Senate and 109 in the House. The Senate passed the measure 21-13 earlier this year while the House passed it 92-66.