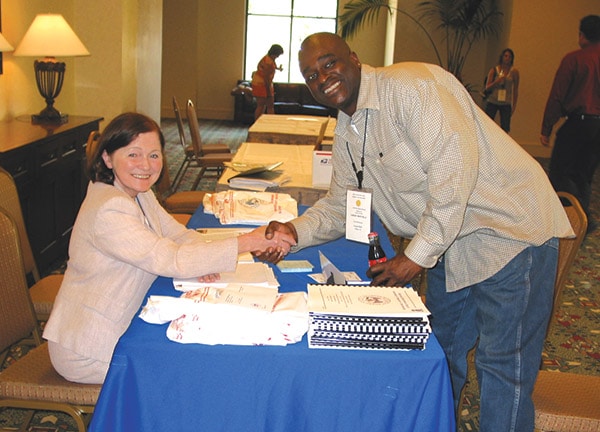 Railroad Retirement Board (RRB) Labor Member John Bragg announced June 17 that Assistant to the Labor Member Geraldine "Geri" Clark will be retiring July 2 after 51 years with the agency.
"Geri's retirement is a great loss to my office and the RRB. Her 51 years of dedication to the RRB, rail labor, and to both active and retired rail workers is unmatched. Her self-motivation, commitment to improving customer service and willingness to always go the extra mile when called upon will be greatly missed," Bragg wrote in a letter announcing Clark's retirement. "I wish Geri the best as she begins this new chapter in life, but most importantly I want to thank her for her service. She has truly been a pleasure to work with."
Clark began working at RRB in 1970 and was appointed to her current position in 1985 by former Labor Member of the Board C. J. Chamberlain, becoming the first woman to be named a board assistant in the agency's history. Geri also served as an assistant to succeeding Labor Members V.M. "Butch" Speakman, Jr. and W.A. "Walt" Barrows.
"Geri's leaving will mark the end of an era for the Railroad Retirement Board, and I am indebted to her dedication and commitment to the men and women of the rail industry who keep this country moving," Bragg wrote. "Her work over the last 51 years has helped assure that railroad workers always receive the benefits they need and deserve."
During her time in the Office of the Labor Member, Clark was the driving force behind the Informational Conference program. The conferences were introduced by the Labor Member to help educate local rail labor representatives about the benefits available to members and their families under the Railroad Retirement and Railroad Unemployment Insurance Acts. Thousands of representatives attended conferences over the years and achieved a better understanding of the provisions and financing of the Railroad Retirement and unemployment insurance systems, and of the administrative organization of the RRB. In turn, they helped improve the effectiveness of the agency's benefit program operations by passing on to their fellow railroad employees the information they acquired at the conferences.
She was a frequent guest at numerous UTU/SMART-TD Regional Meetings, sharing her knowledge of the RRB to members on the cusp of retirement or who were just planning ahead.
More recently Clark spearheaded RRB's Pre-Retirement Seminar program for workers. The seminars have proven to be a popular successor to the informational conferences, offering similar content, but open to rail labor representatives and also railroad employees and their spouses nearing retirement.
The leadership and the whole of SMART Transportation Division thank Geri Clark for her many decades of excellent service in helping to ensure that union members understand and get the RRB benefits to which they are entitled. We wish her a long, happy and healthy retirement!