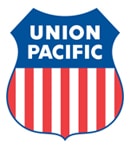 OMAHA, Neb. – Profiles in Diversity Journal recently recognized Union Pacific as one of the nation's 25 Most Influential Companies for Veteran Hiring. The only railroad on the list, Union Pacific was selected for its commitment to veteran hiring, progressive reservist policies and dedication to supporting employee veterans.
"Union Pacific understands and values the skills veterans bring to the workforce," said Roy Schroer, Union Pacific's vice president of Human Resources. "The military instills a strong work ethic and world view that strengthens our organization at all levels."
In 2013, Union Pacific hired more than 800 military veterans, including 95 disabled veterans. These veterans make up approximately 25 percent of all new hires in 2013. During the last five years, 24 percent of Union Pacific's hires have been veterans, and overall, veterans comprise about 20 percent of the company's workforce. Leadership and teamwork skills, wide-ranging areas of expertise gained during their service, familiarity with nontraditional working hours and experience working outdoors are just some of the characteristics that make military personnel a good fit with jobs at Union Pacific.
Union Pacific actively recruits veterans through its involvement with military transition offices, military education offices, reserve and National Guard units, career fairs, information sessions, employer panels, resume review assistance and by serving on local military committees and boards.
The railroad's progressive reservist policy is one example of how Union Pacific supports its reserve, active duty and veteran employees, and their families. All employees called to active duty are compensated for any difference between military and company pay, and Union Pacific continues benefit coverage for deployed employees and their families. In addition, the employee resource group UPVETS is devoted to attracting, developing and retaining employees who are military veterans.
Union Pacific frequently is recognized for its commitment to military veterans. The company received the inaugural Hiring Our Heroes Award for Post 9/11 Veteran Employment and Internships from the National Chamber Foundation and has been named a military-friendly employer 10 times by G.I. Jobs. The company is a member of the Army Reserve's Employee Partnership Initiative, supports the Army Partnership for Youth Success program, and is a past recipient of the Freedom Award, the U.S. government's highest employer recognition.
Union Pacific offers many unique employment opportunities for veterans, including train crew, diesel mechanics, diesel electricians, assistant signal workers and track laborers. Engineers in the computer science, electrical, civil and mechanical areas will find leadership opportunities in the Information Technology department or through the company's Operations Management Training Program. Interested candidates can view job postings at www.UP.jobs.