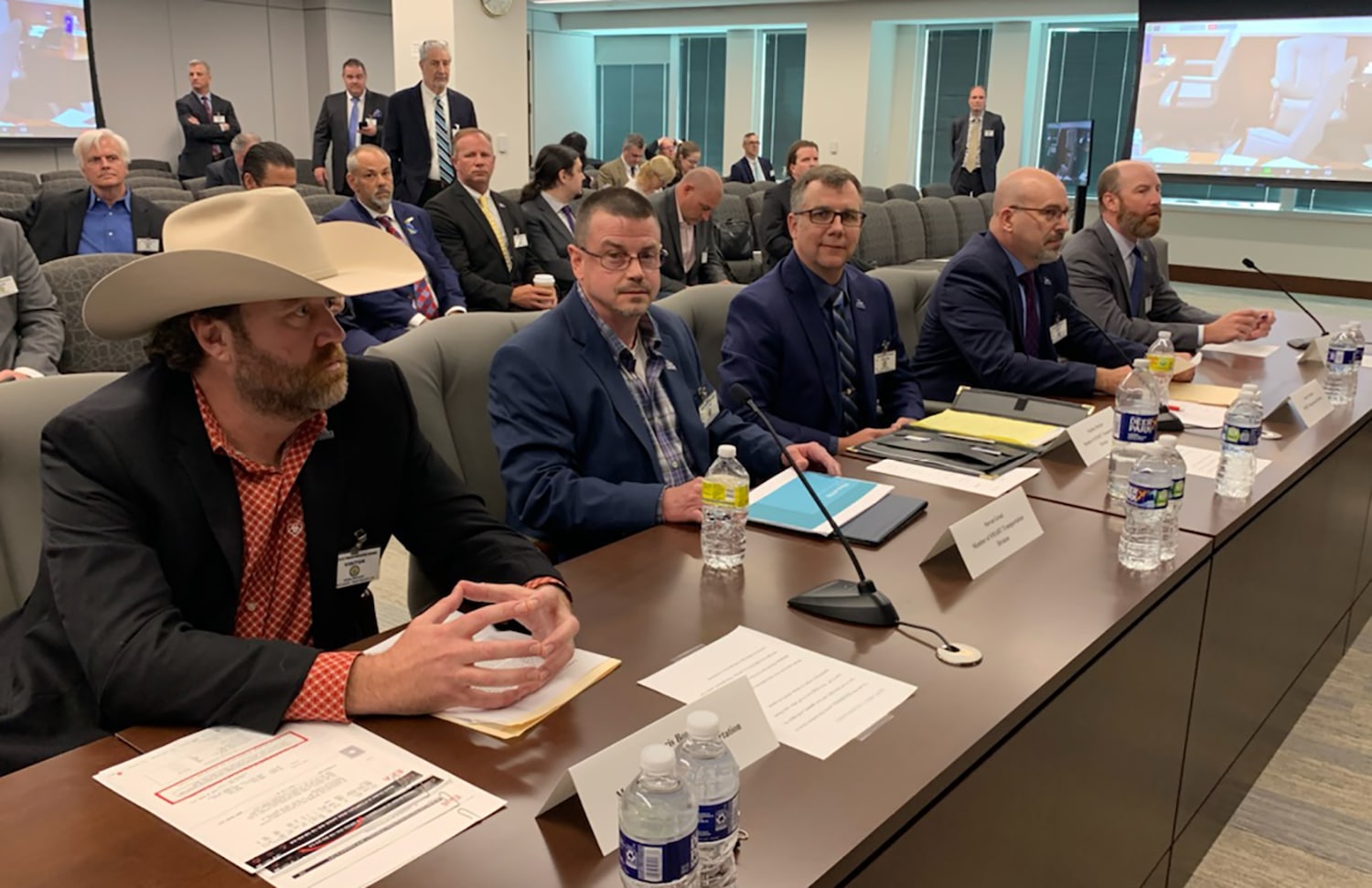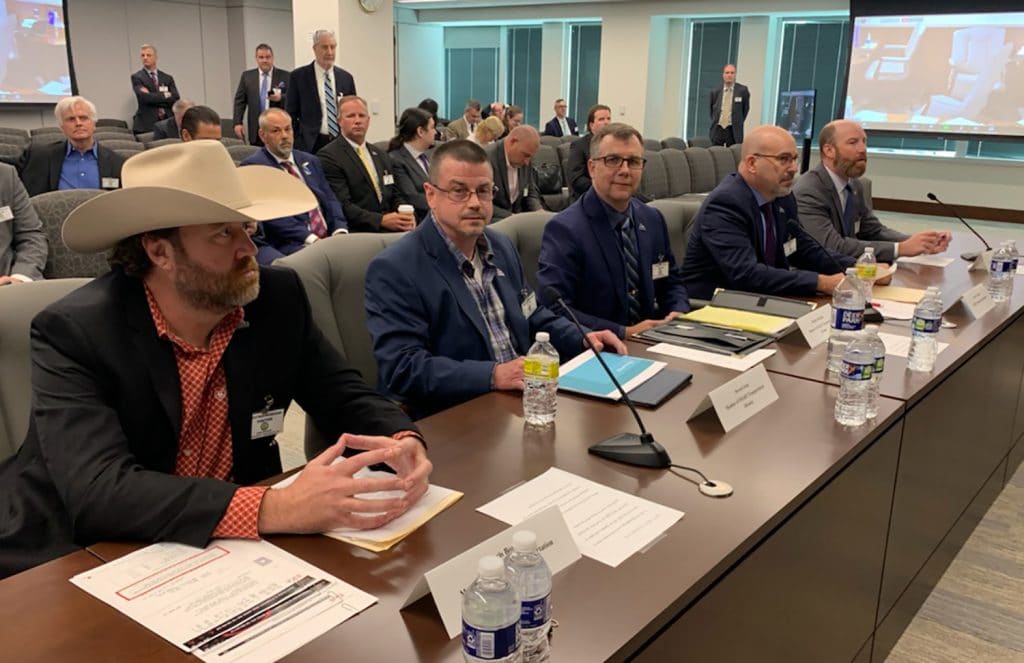 From left, Local Chairperson Chris Bond (Local 513, Gainesville Texas); Local Chairperson Steve Groat (Local 329, Boone, Iowa); General Chairperson Matt Burkart (GCA-341); SMART Transportation Division President Jeremy Ferguson and AFL-CIO Transportation Trades Department President Greg Regan wait to deliver their testimony before the Surface Transportation Board on April 26, 2022.
---
On April 26, SMART Transportation Division President Jeremy Ferguson and three members of the union shed light April 26 on the devastating effects Precision Scheduled Railroading (PSR) has had on customers and labor alike before the Surface Transportation Board (STB).
Their testimony came on the first day of STB's hearing on "Urgent Issues in Freight Rail Service" convened in Washington, D.C.
"As professionals, it's painful to watch our shippers get bad service or no service at all, much higher rates, destroyed product and equipment, and in some cases having to resort to shipping by truck whenever possible," President Ferguson said. "I want to make our voice heard that we stand with the shippers who want our professional service to keep the supply chain open and keep this country's economy moving."
President Ferguson referred back to the "safest and most productive era" of railroading years ago with more service flexibility, proper maintenance and full extra boards that has now been sacrificed for the higher stock prices sought by Wall Street investors through the implementation of PSR.
"Thousands of men and women have been laid off with reckless abandon while no consideration has been given to the service that has ultimately been forsaken," he said. "All that is known to us and our members at this point is that the railroads are dead set on achieving the lowest operating ratio attainable at any cost."
"Railroading, once revered as one of the most-coveted blue-collar jobs in the world, is now hemorrhaging employees at unprecedented rates because of the abusive work environments PSR has created. Truth is, employees are leaving the industry faster than the railroads can hire."
He referenced the "Hi-Viz" attendance policy that BNSF implemented in February several times, stated that its implementation has led to the departure of 1,000 workers who were forced to choose between trying to attain enough sleep to safely work their next shift or try to spend limited time with family for a undervalued employee that often has only one day off a month.
"Now, because of PSR, two choices exist for rail labor: Work or be fired," President Ferguson said.
General Chairperson Matt Burkart (GCA-341), a fourth-generation railroad worker, yardmaster and member of Local 1975 (Kansas City, Mo.), testified that the relative simplicity of railroading over its nearly two centuries in the United States is being violated.
"It takes three things to railroad: Power, crew and rail. That's it. Something to pull it, somebody to move it and something to run on," said Burkart, a former member of management. "You give us those three things and we can run all day long. We're not running all day long right now."
Burkart mentioned the lengthy trains PSR has brought, many which exceed 10,000 feet when yards and sidings were made to accommodate World War II-era lengths of 3,000 feet. Not only does it take more moves to build or put a train away, it also takes more time, thus burning through the crew base.
Brother Burkart also brought to light our equipment, including the hand-held radios supplied to our members, were not made to accommodate these types of train lengths either, stating that, "the radios do not work with the longer trains, hampering the crew's ability to communicate when inspecting larger trains" he said.
"It just doesn't make sense, it's perpetuating manpower issues, it's dangerous, and it's not servicing our customers. All of it's bad," Burkart said.
And, lastly, BNSF, contrary to belief, has implemented PSR and has imposed its own data-driven metrics based on reducing resources and headcount for years, Burkart said.
He offered a pair of simple solutions looking back a decade and a half:
"It takes planning. It takes common sense," Burkart said. "Two things can be legislated today: a maximum of 8,000 foot on trains. We don't need these three-mile-long monsters running around. We need to disincentivize any reason to ever store a locomotive. In Donley Creek we have five miles of engines stored. There's no reason for a train to sit without power."
Also testifying was Local Chairperson Steve Groat (Local 329 — Boone, Iowa), a Union Pacific engineer, who mentioned the slower velocity caused by inadequate track maintenance, derailments and mechanical failures caused, in part, by long trains.
"Since the increase in train lengths, I've noticed more hard wear," he said — broken cars split in half, drawbars and knuckles being left on the ground. "These train lengths increase the in-train force that stresses the components that don't normally fail."
Travel times for trains also have increased and locomotive use hasn't been efficient, Groat told the board.
"This is like hooking up a 28-foot camper to a Toyota Prius and trying to drive to Colorado," he said. "At what time do you expect the engine to fail or a component of the locomotive to fail?"
Local Chairperson Chris Bond (Local 513 — Gainesville, Texas), an engineer, spoke about BNSF's throttle and power limitations that had been rescinded April 15 after the STB hearing had been announced.
"The carrier has put profit over everything," Bond said. "Over customer service, over employees, even over safety."
Hi-Viz also has caused an employee exodus and a personnel shortage at the carrier when there wasn't one before, Bond said.
"This new policy has employees resigning in record numbers. I have several employees who are facing discipline and possible dismissal right now," he said, including a single mother who has staggered custody of her child, now facing potential termination as a result of Hi-Viz.
"With BNSF losing people because of resignations and terminations, they've attempted to recall furloughed employees that are hearing of the current work environment and choosing not to return," Bond said. "The new conductor trainees who are hiring on are quitting almost right away."
The testimony from SMART-TD was preceded by Transportation Trades Department, AFL-CIO President Greg Regan, who recently detailed PSR-related meltdowns that have adversely affected shippers.
"The workers represented by TTD-affiliated unions have been sounding the alarm on the state of the freight-rail industry for years," he said. "It's deeply unfortunate but completely predictable that we would find ourselves here today as both railroad employees and customers sit before you to express a shared simple fact — that today's freight-rail network is not working for anyone other than railroad investors."
Regan reminded STB members that Class I railroads shrank their workforce well before the pandemic by 29 percent over the last six years — about 45,000 jobs and were making the system less flexible by storing equipment.
"The elimination of jobs across all crafts of the freight rail network has undoubtedly contributed to operational breakdowns and service degradation, including the ability to operate, inspect, maintain and repair every component of a railroad."
He mentioned service disruptions experienced by customers of BNSF, Union Pacific and Norfolk Southern in recent months.
"For as long as these railroads continue along their current path, these meltdowns and service degradations will continue," Regan said.
Brotherhood of Locomotive Engineers and Trainmen Vice President Mark L. Wallace also testified on behalf of labor.