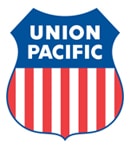 Faced with public concern about the risks of crude oil shipments, the Union Pacific railroad last month boosted its rail inspection program on mountain passes in California and the West, dispatching high-tech vehicles with lasers to check tracks for imperfections.
UP officials say they have leased two rail inspection vehicles, called geometry cars, doubling the number of computer-based safety cars in use on the company's tracks. The move comes amid mounting public concern about hazardous-material shipments, including a growing quantity of highly flammable crude oil from North Dakota being shipped to West Coast refineries.
Read the complete story at the Sacramento Bee.