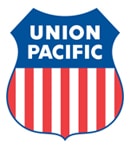 Union Pacific Railroad has applied for permission to haul liquefied natural gas, which would add another combustible cargo to a U.S. rail network already being criticized for transporting ethanol and crude oil through populated areas.
The Omaha-based railroad said the application for a permit from the Federal Railroad Administration is in response to a request for liquefied natural gas transportation from an existing customer. Union Pacific operates 32,000 miles of track in the western United States, which is home to many natural gas production and storage installations.
Read the complete story at the Omaha World-Herald.