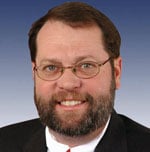 WASHINGTON – While organized labor has more friends in the Democratic Party, and carriers have more friends in the Republican Party, there are many Republicans who are friends of organized labor – and the UTU's bi-partisan approach to politics recognizes this.
One special Republican friend of the UTU is Rep. Steve LaTourette of Ohio, who serves on the House Transportation Appropriations Subcommittee, where Amtrak and transit funding is determined. Roll Call newspaper, which reports on all things Congress, recently called LaTourette, "The top GOP ally of organized labor in the House."
Said Rep. Dennis Kucinich (D-Ohio) of LaTourette: "People from both sides of the aisle often line up to talk to him because they value his insight."
Recently, LaTourette teamed with Rep. Rus Carnahan (D-Mo.) to introduce legislation allowing transit agencies to use some of their federal funding earmarked for new equipment, for operations instead, which would allow cash-strapped transit agencies to maintain service and keep drivers, who otherwise faced layoffs, on the job.
LaTourette also has been an advocate for consistent and reliable Amtrak funding; and earlier this year, he led 15 other Republicans to stand in opposition to an attack by the Republican leadership against the National Mediation Board's changed rule making union representation votes more democratic.
As we approach the 2012 election year, the UTU PAC will stand by all our friends seeking reelection or election to Congress and state office, regardless of political party affiliation.
The UTU PAC works for and helps candidates we feel are capable and knowledgeable, and who recognize the problems that affect airline, bus, rail and transit workers.
For more information on the UTU PAC, and how UTU-member participation in the UTU PAC helps to protect your economic security and safe working conditions, click on the following link: