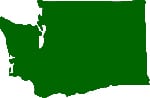 Washington Gov. Jay Inslee signed into law H.B. 1841, a two-person crew bill that was championed in various forms for seven years by SMART-TD Washington State Legislative Director Herb Krohn and the other members of the state's legislative board.
Affectionately known as a "zombie" bill — H.B. 1841 had been buried and put on hold numerous times by legislators but kept coming back in the face of carrier opposition — it became the law of the land March 27.

"We were able to finally prevail by building a cohesive coalition of supporters including police and fire departments, environmental organizations, other labor unions, and interested community organizations to advance this bill across the finish line," Krohn said. "We not only finally prevailed in our statehouse, we've successfully passed the STRONGEST state train crewing law in the entire nation!"
As written, the bill allows the Utilities and Transportation Commission (UTC) to "order railroad carriers to increase the number of railroad employees in areas of increased risk to the public, passengers, railroad employees, or the environment, or on specific trains, routes, or to switch assignments on their road with additional numbers of crewmembers, and may direct the placement of additional crewmembers, if it is determined that such an increase in staffing or the placement of additional crewmembers is necessary to protect the safety, health, and welfare of the public, passengers, or railroad employees, to prevent harm to the environment or to address site specific safety or security hazards."
The bill survived a last-ditch effort by Senate Minority Leader Mark Schoesler on March 6 to quash it before it passed through the state Senate by a 34-15 vote.
Schoesler, a Republican, attempted to adjourn the legislative session rather than have the bill come up to a vote five minutes before the close of the legislative session, Krohn said.
"Schoesler attempted to shut down the Washington State Senate rather than allow our crewing bill to come to the floor for consideration and a vote," Krohn said. "It's an example of just how far the rail carriers and their allies are willing to go to kill off our safe train crewing bill as well as any other railroad safety legislation they oppose!"
That motion to adjourn was defeated by a party-line vote, and the bill subsequently was heard and voted upon.
Five Republicans and a Democrat who caucuses with them voted with every Senate Democrat in favor of the bill. The 15 senators who voted against H.B. 1841 were all Republican.
Krohn said the law is scheduled to take effect Thursday, June 11, 2020, and restores minimum freight crew legislation in the state that had been removed from the books in 1966 thanks to carrier lobbying efforts.
At the federal level, Washington state is a party along with three other states and rail labor unions in the U.S. Court of Appeals Ninth Circuit lawsuit against the Federal Railroad Administration's (FRA) attempt to prevent states from passing laws mandating train crew size.
A hearing in the case is likely to be held in late summer or fall.