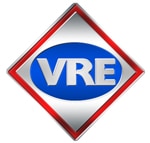 VIRGINIA – Residents Tuesday night packed the lecture hall at Gainesville Middle School to hear about plans to extend Virginia Railway Express to their neighborhood.
The state's only commuter railroad is conducting a two-year, $4 million planning and engineering a study to examine the impacts and costs of extending VRE's Manassas line west, and building a new station at Innovation Park at George Mason University in Manassas, in Gainesville, and in Haymarket.
Up to two trains per hour would run along the new line, dubbed the Norfolk-Southern "B-line" which branches off VRE's main Manassas line to Haymarket. The B line is used today by freight trains, but the addition of up to two more sets of tracks would clear the way for commuter rail service to begin in 2022.