Brothers and sisters,
I wanted to open this column by expressing my continued admiration to the dedication and drive all members of the SMART Transportation Division have shown in the face of adversity.
As an example, our bus members in Santa Cruz out of Local 23 have coped with weather challenges posed by massive flooding in the area and helped to evacuate people to safety. Elsewhere on the West Coast, the Midwest and in the Northeast, we've dealt with our share of storms that make our work more difficult and stressful for bus operators, transit workers, passenger rail, air and freight rail workers.
I want to thank you for showing up. You do the work that others are unwilling or cannot do, and that keeps this country moving. You are appreciated, and when I travel to your area, I will tell you that in person.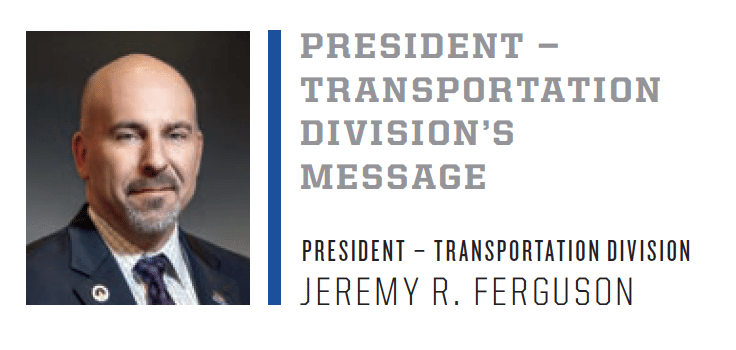 A special congratulations goes out to the members of Local 1715 in Charlotte who ratified a new contract by a near-unanimous margin that secures a significant wage increase and other positive gains. Thank you, General Chairperson Joseph Paglia, Vice General Chairperson and Local President Christy Kiser, Local Chairperson Stanley Valentine, Secretary & Treasurer Chris Johnson, Local Committee of Adjustment Secretary Sabrina White and Bus Department Vice President Calvin Studivant for getting such a positive result!
Congratulations also go out to the Ohio State Legislative Board and State Legislative Director Clyde Whitaker, who made Ohio the ninth state to require a minimum two-person freight rail crew. His poise and truthful testimony in March before the U.S. Senate served as a great example for all of labor. He did a fine job.
You do the work that others are unwilling or cannot do, and that keeps this country moving. You are appreciated, and when I travel to your area, I will tell you that in person.
While we've each dealt with our own adversity over the past months, the people of East Palestine, Ohio, have dealt with a unique set of challenges. Thanks to a situation that they had no role in creating, the greed of Precision Scheduled Railroading (PSR) came to an ugly head in the southeastern Ohio town.
The headlines and situation following the derailment there in early February are all too familiar, and each subsequent derailment in the months since has made headlines. People in East Palestine have been left with many questions. As the NTSB is thoroughly investigating the derailment to answer the question of "How" this scenario came to pass, we all know the answer to "Why?" PSR and its disregard for safety placed a higher value on getting Norfolk Southern's train across the road than it did on safeguarding the communities it travelled through or the wellbeing of the crew on it.
The results have been splashed all over your televisions and news feeds. As we pray for the victims and hope that claims made by the carrier, EPA and local officials are true that the people of East Palestine are not in danger, we all owe it to those people to prevent that scene from playing out again and again and again.
Drone footage, doorbell cameras and interviews of the people directly affected have emphasized the points SMART-TD has been making for years about the destructive potential of PSR. With the national attention that has been generated by derailments, it is imperative that we disseminate the facts as we know them and continue to repudiate the role corporate greed plays in the rail industry, making community and worker alike less safe.
It is imperative that we harness this momentum to bring about some good from these disasters. Many states have seen progress on crew-size and train-length bills as the national discussion continues to examine rail safety. It is important that as our families, friends and neighbors come to us as industry experts, we are open and honest about the root cause. We need to stand together and to deliver the truth about the carriers' conduct and what it has done to jeopardize our personal safety as well as the safety of every city and village we roll through.
As you are all aware, this past quarter has been one of much activity for SMART-TD. I want to take this opportunity to personally thank you for your continued professionalism, and I want to assure you that SMART-TD is engaged in every aspect of what is happening on both national and local levels. We are a party to the investigations into all of the recent derailments, as well as the wave of rail safety legislation that is getting headlines. We stand committed to making your voices heard in the halls of Congress as well as the backrooms of the nation's rail carriers.
In freight negotiations, Luke Edington and his fellow officers at GC-953, as well as Rick Lee and his officers at GO-049 have leveraged gains on their respective properties into tentative agreements before the membership. GC-953's agreement preserves the conductor position on Union Pacific and the carrier has withdrawn its nomadic "expediter" plan. GO-049 has achieved for the first time the chance for paid sick leave among T&E employees. I applaud their diligence in working to get these tentative agreements before our members and look forward to seeing other carriers follow suit in crafting similar on-property contracts.
Please continue to keep yourself safe and watch out for your brothers and sisters in your crew base. We will be remembered not for our career accomplishments but for how well we serve as one another's keeper in trying times like the present.
Fraternally,

Jeremy R. Ferguson
President, Transportation Division