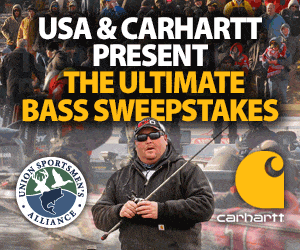 The GEICO Bassmaster Classic is the Super Bowl of competitive bass fishing, and now, Union Sportsmen's Alliance members have a chance to be part of the memorable experience, cheering alongside more than a hundred thousand fellow bass fishing fanatics as pro anglers weigh their catch in hopes of making history.  Carhartt, a proud national partner of the USA, is inviting one USA member and a friend on an all-expense-paid trip to the 2016 GEICO Bassmaster Classic in Tulsa, Oklahoma on March 4-6.
The lucky USA winner and guest will receive VIP passes to Classic events and activities, roundtrip airfare, lodging, ground transportation, a Carhartt camouflage jacket and $1,000 in spending money – a package worth approximately $3,500!  Plus, 25 additional USA members will win a Carhartt's camo Active Jac in Realtree Xtra®.
There is no cost to entry, and all active USA members age 18 and older can enter to win the sweepstakes by January 15, 2016.  If you're not a USA member, don't worry…SMART members can join the USA at no cost at UnionSportsmen.org and qualify to win.
Enter the contest at UnionSportsmen.org/carharttclassic.