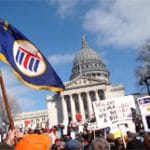 Voters in Wisconsin will decide Tuesday, June 5, whether to recall their anti-union Gov. Scott Walker, a recall election engineered largely by working families and union members after Walker successfully pushed state legislation to curtail collective bargaining rights of public employees and weaken the ability of labor unions to represent workers across the state.
Walker, a Republican, is being challenged by Milwaukee Mayor Tom Barrett, a Democrat, whom Walker defeated in 2010 by a 50-45 percent vote margin.
Also facing recall Tuesday are Wisconsin Republican Lt. Gov. Rebecca Kleefisch and three Republican state senators, all of whom joined Walker in support of the anti-union legislation. A fourth senator resigned from office prior to facing a recall election. That vacant seat will be filled in Tuesday's election.
In August 2011, two state senators who had supported Walker's assault on collective bargaining rights were successfully recalled and replaced by more moderate lawmakers.
The UTU Collective Bargaining Defense Fund played a significant role in the successful recall election effort last year, as well as the current recall election. More than 900,000 signatures were obtained on petitions to force Tuesday's recall election.
Walker is the first governor in Wisconsin history to face recall. Only two governors have been removed from office through recall votes: California Gov. Gray Davis in 2003 and North Dakota Gov. Lynn Frazier in 1921.
UTU members, along with members of the Sheet Metal Workers International Association (SMWIA), and brothers and sisters from dozens of other unions, have been active across Wisconsin in rallies and other activities to energize voters to elect Barrett in place of the anti-union Walker.
The UTU Collective Bargaining Defense Fund provided resources to obtain the petition signatures as well as for direct mailings, door-to-door visits of voters and recorded phone calls by UTU International President Mike Futhey to UTU members and retirees in Wisconsin explaining the issues and encouraging votes for Barrett on Tuesday.
Barrett told CNN June 3 that "Scott Walker wants to be on the national stage as the rock star of the far right, as the poster boy of the Tea Party."
Emotions are running so high in this election that the U.S. Justice Department is sending teams of poll watchers to Wisconsin.
Millions of dollars have flowed into this race from conservatives and business executives across America, providing Walker with an 8-1 spending advantage over Barrett for political advertising.
As for Wisconsin's anti-labor legislation that was approved by Republican legislative majorities last year, a federal court in March invalidated portions of the Wisconsin law – one provision requiring annual recertification of a union, and another denying workers the right to have union dues withheld from their paychecks. Both were found in violation of constitutional free speech rights.