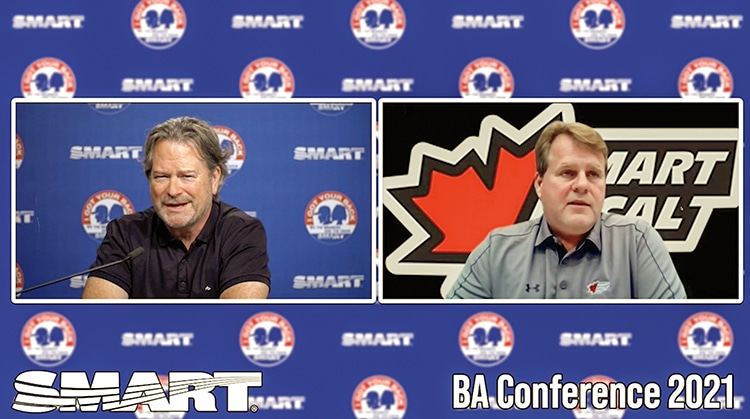 Speakers and panels also focused on the importance of mentorship, moving a pro-labor agenda under the Biden administration, rail and transit safety, lessons learned from local SMART leaders and safe buildings post-COVID
---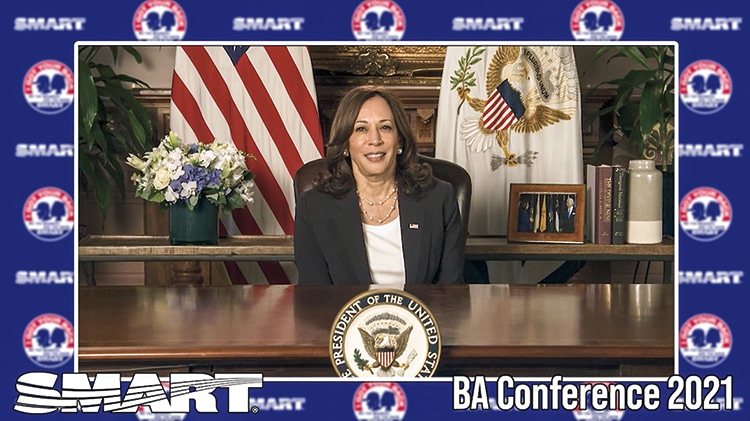 SMART conducted a virtual business agents' conference in July 2021. More than 300 local and national SMART leaders, as well as special guests that included Vice President Kamala Harris, participated in the one-day online gathering. An in-person conference had been scheduled to take place in New York City, but due to the unpredictability of the pandemic and rising COVID cases in the summer, it was changed to virtual.
The overall theme of the conference was "I Got Your Back," with many plenary speeches and breakout sessions focused on the importance of union solidarity and working together to build a culture within SMART characterized by inclusion and mutual support.
"The past 16 months caused us to reflect on what is most important," said SMART General President Joseph Sellers in his keynote speech to the conference. "We leaned on each other to get through this crisis, and union solidarity is our foundation. That is why this year's theme is 'I Got Your Back'."
"The past 16 months caused us to reflect on what is most important. We leaned on each other to get through this crisis, and union solidarity is our foundation. That is why this year's theme is 'I Got Your Back'."

– SMART General President Joseph Sellers
Sellers pointed out that, at the 2019 SMART General Convention, delegates took a hard look at how their sisters and brothers were treated at work and how this impacts SMART members and industries. Delegates unanimously adopted amendments and resolutions that aimed to make the union more inclusive and added language to the SMART Constitution that makes harassment, bullying and hazing chargeable offenses.
"Now, two years later, we need action," said Sellers. "Words in our constitution are not enough. Goals and intentions are not enough. We are putting words to action… We are asking each member to stand up and look out for our fellow sisters and brothers."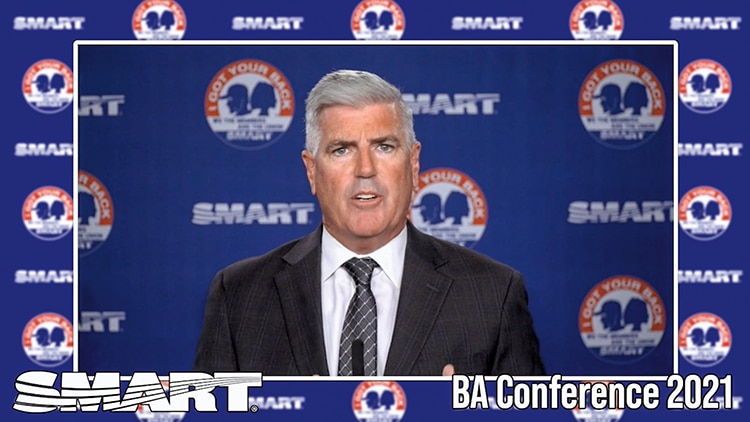 The week of the BA conference, SMART international mailed to every local an "I Got Your Back" campaign kit that included stickers, instructions and promotional materials.
"This campaign provides our membership with the opportunity to recognize those members who were there for them — who supported them — and to pay it forward to the next generation. When members see a fellow member wearing the 'I Got Your Back' sticker on the jobsite, they will know they have an ally to turn to. They will know that member has their back."
SMART General Secretary- Treasurer Joe Powell, who taught hundreds of apprentices during his time as an apprenticeship instructor at Local 206 in San Diego, underscored the importance of mentorship for SMART members.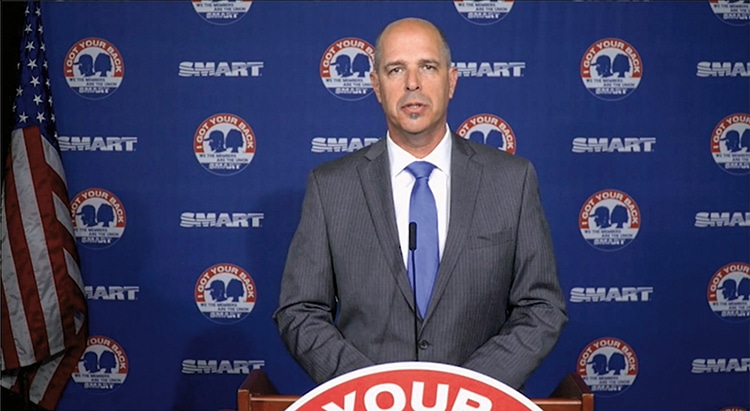 "We have all had mentors who had our backs during our careers," said Powell. "And it is important for us to mentor and be an ally to those entering the industry behind us."
SMACNA President Angie Simon echoed SMART's commitment to diversity, inclusion and mutual support in her video presentation, noting that the signatory sheet metal sector "continues to shine," but still has room for growth when it comes to recruitment and keeping up to date with technology.
"The future of our industry is not represented by one color, one race, or one gender," said Simon, "but will depend upon the best and brightest being drawn to our industry by our training, our craftsmanship, the economic opportunity and unrestricted opportunity to succeed."
Many speakers noted the unprecedented challenges and stresses faced by SMART members over the past year due to the pandemic and related economic turmoil and how members had risen to these challenges time and time again.
"You are the essential workers, representing our members throughout this pandemic," said Sellers. "You have endured shutdowns, converted hospitals for COVID care, and manufactured the air handling equipment and goods that have kept our nations running and the air we breathe safe and clean."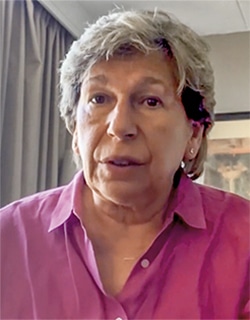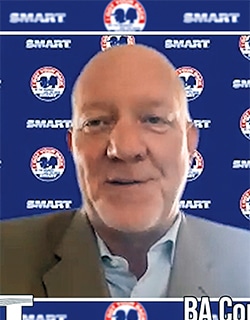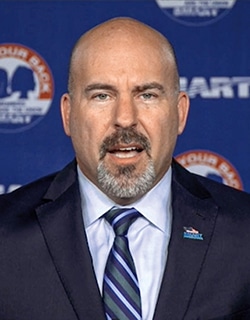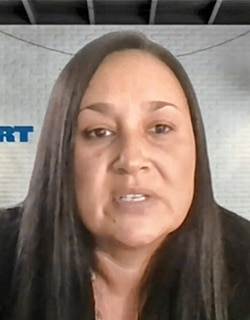 Transportation Division President Jeremy Ferguson underscored the impacts of COVID-19 on TD members, taking a moment to remember the 19 active TD members who had died due to COVID-19 as of mid-July. Ferguson also noted that many bus operators, freight rail members and Amtrak members were furloughed early in the pandemic as schools and offices closed, businesses slowed down and tourism ceased.
He emphasized the work SMART has been doing throughout the pandemic around rail safety, rail and transit funding and coordinating with the sheet metal division to work with the Biden Administration to advance initiatives important to SMART members. He added that most Amtrak members were recalled after passage of the American Rescue Plan, which SMART actively lobbied to support.
"We are continuing to battle to keep two people on every train, following the attacks on our crew consist agreements shortly after I took office," added Ferguson. "Most importantly, we continue to fight for workplace safety, as our union has seen a startling number of fatalities and amputations in the last two years as a result of the previous U.S. president's administration creating what I will call a 'deplorable safety culture' — one where profits and shareholders are valued more than our members lives or the federal safety regulations previously written to protect them."
"We are continuing to battle to keep two people on every train, following the attacks on our crew consist agreements shortly after I took office."

– SMART Transportation Division President Jeremy Ferguson
In a video address to the BA conference, Vice President Kamala Harris underscored the Biden administration's commitment to standing with working families.
"President Joe Biden and I are determined to be the most pro-union administration in American history," said Harris. She noted that the American Rescue Plan, signed into law by President Biden, allocated nearly $31 billion toward supporting transit systems and workers impacted by the pandemic, as well as strengthening pension plans for workers across industries.
"We could not have passed the American Rescue Plan without your support and leadership," she added.
Vice President Harris also addressed bipartisan infrastructure legislation, noting that SMART members know, perhaps better than most, that America's infrastructure is in desperate need of update. Proposed infrastructure legislation, she said, "will put Americans to work in good, union jobs, fixing our roads and our bridges and modernizing our transit system."
Other guest speakers included American Federation of Teachers President Randi Weingarten and North America's Building Trades (NABTU) President Sean McGarvey.
Local 265 Business Representative Louise Medina spoke to conference participants in her capacity as president of the newly formed SMART Recruitment and Retention Council. Quoting from the council's mission statement, she said it will help guide efforts "to recruit, retain and promote diverse groups in our organization and to ensure workplace equality within our industry; and to promote respect, inclusion and safe, non-hostile work environments at all levels of SMART."
Medina, who also serves on the SMART Women's Committee, said the new council plans to hold meetings twice a year, hopefully in person, to discuss these issues and develop resources, trainings and other materials to support locals and regional councils in recruiting and retaining underrepresented workers. If you have questions or need information on how to affiliate with the council, email Louise Medina at louise@smart265.org.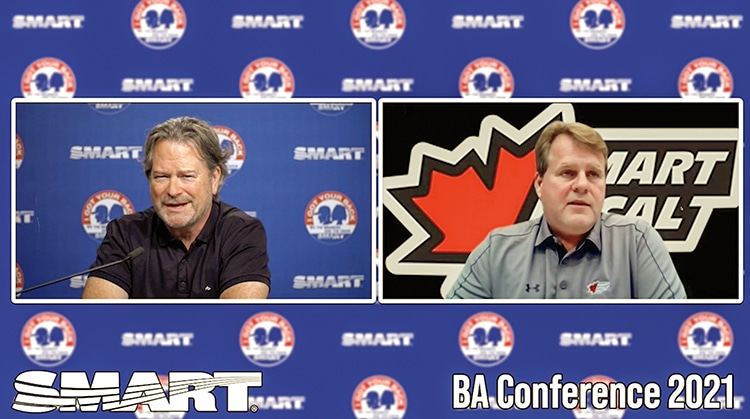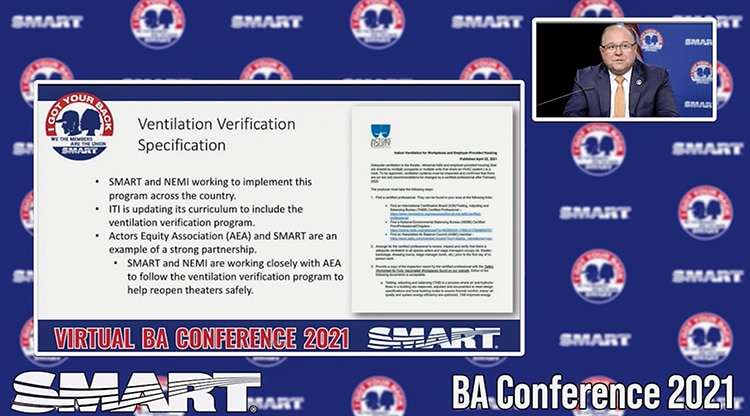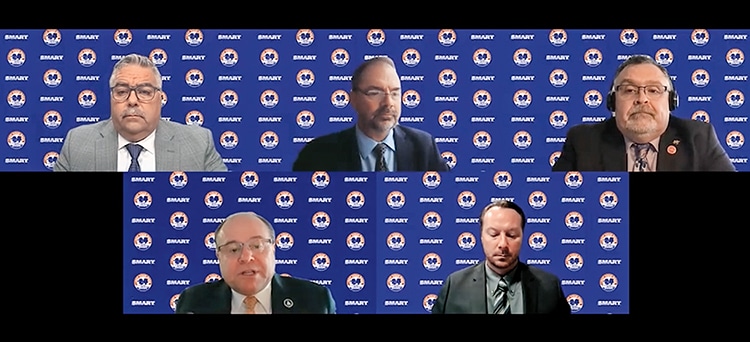 After the main conference plenary, delegates could choose among the following breakout sessions:
Profiles in Leadership
This session addressed fundamentals of leadership and featured interviews with local leaders discussing strategic thinking, challenges they have faced and leadership lessons learned. SMART Director of Education Chris Carlough led discussions with Local 285 Business Manager Bob Gougeon, NW Regional Council President Tim Carter and Local 265 Business Manager John Daniel.
Beyond Bias
This session featured Dushaw Hockett of SPACES introducing the concept of "implicit bias" and breaking down examples of what it can look like. The session concluded with a live Q&A session with General President Sellers and General Secretary- Treasurer Powell.
Safe Buildings Post-COVID
This session featured a panel discussing what every SMART leader needs to know about indoor air quality and proper ventilation coming out of the pandemic. Panelists included NEMIC Northeast Regional Representative Jeremy Zeedyk, ITI Field Representative Darrell Garrison, SMART Director of Governmental Affairs Steve Dodd and SMART Director of Canadian Affairs Chris Paswisty.