More than 50 UTU members turned out Jan. 15 to participate in an informational picket of Progressive Rail, Inc., outside the company's Lakeville, Minn., headquarters.
Those members from UTU Locals 64 (Huron, S.D.), 650 (Minneapolis, Minn.), 911 (Minneapolis, Minn.), 1000 (Minneapolis, Minn.) and 1614 (St. Paul, Minn.) were there in a show of solidarity with their fellow members employed by the company.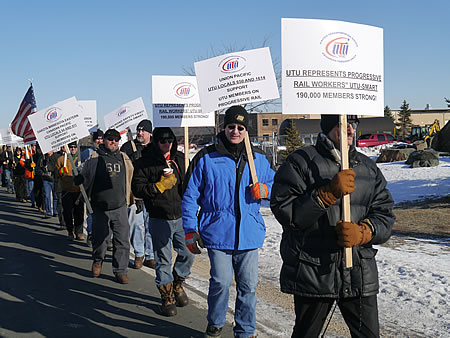 UTU Minnesota State Legislative Director Phil Qualy said railroad workers employed by Progressive Rail, Inc., chose to organize and joined the UTU in 2010. The union reached an agreement with PRI in February 2012.
According to Qualy, UTU members employed by PRI were awarded a 15% pay increase over five years, seniority rights, arbitration-process rights, scope rules and recognition under the Railway Labor Act following their first contract.
Since the initial certification by 11 of 12 PRI workers, PRI management has fired or retaliated against eight of those UTU members, Qualy said. PRI replaced them with anti-union employees and has not collected union dues from them, nor has it allowed union communications on the property.
Qualy also said that since the ratification of the 2012 agreement, PRI managers have created a sham union with former Dakota, Minnesota & Eastern anti-union scab workers and a quasi-carrier officer and that the National Mediation Board has approved a representation election between the UTU and the PRI management organization on Jan. 29, 2013. 
"As the UTU's Minnesota state legislative director, I want to extend my highest compliments to our local UTU officers," Qualy said. "With their assistance, we had numerous UTU/SMART members who had never stood in solidarity on a picket line before experience the strength of fraternalism and activism."
Qualy also thanked UTU International Executive Board member Phil Craig and UTU International Organizer W.W. Lain for their participation and counsel throughout this effort.
"We show up and support our guys," Qualy said. "It doesn't matter if it's 1,000 members or it's one member, we're going to stand as the UTU for our brothers and sisters."
PRI is a shortline subsidiary of the Canadian Pacific Railway.