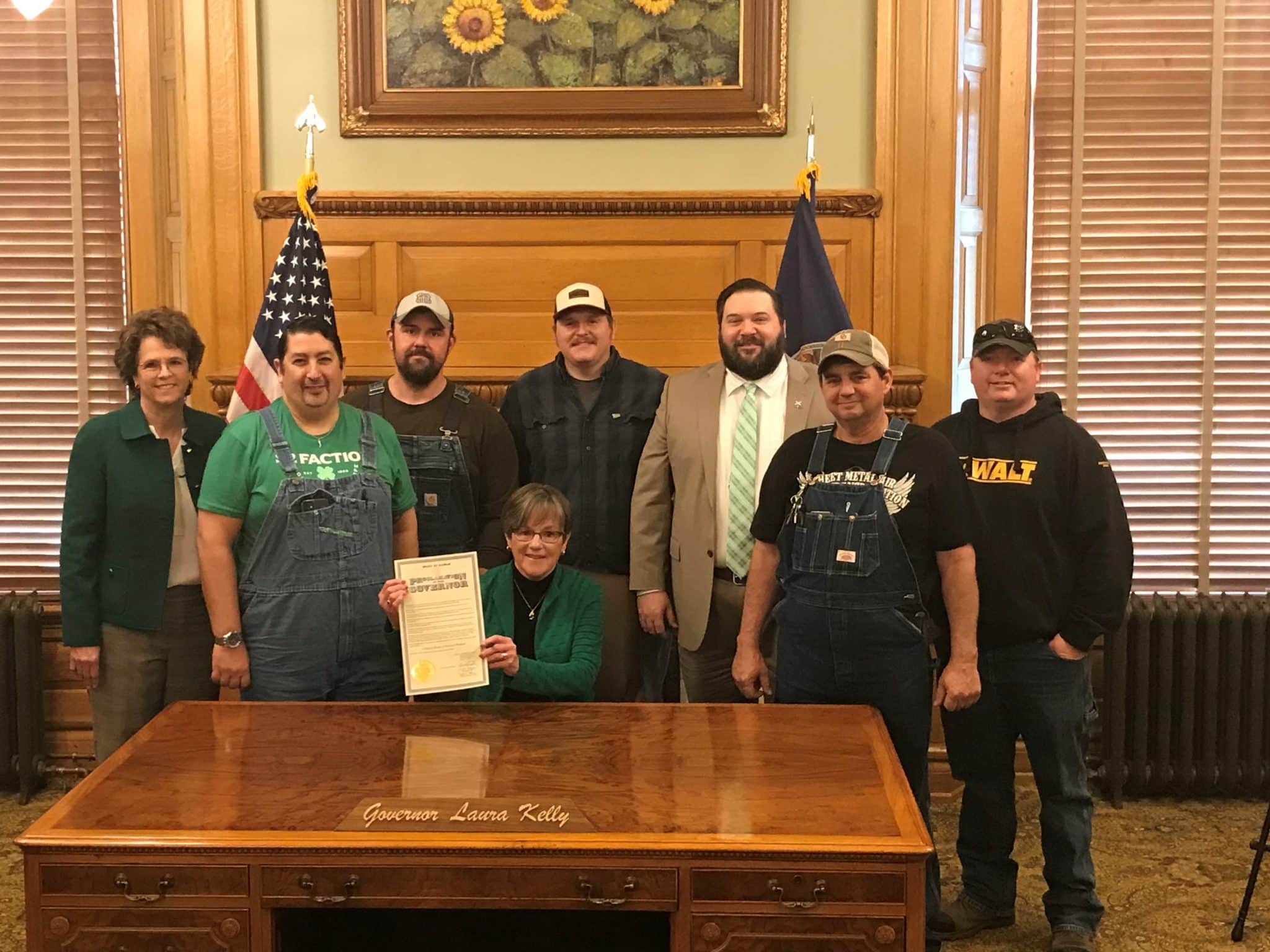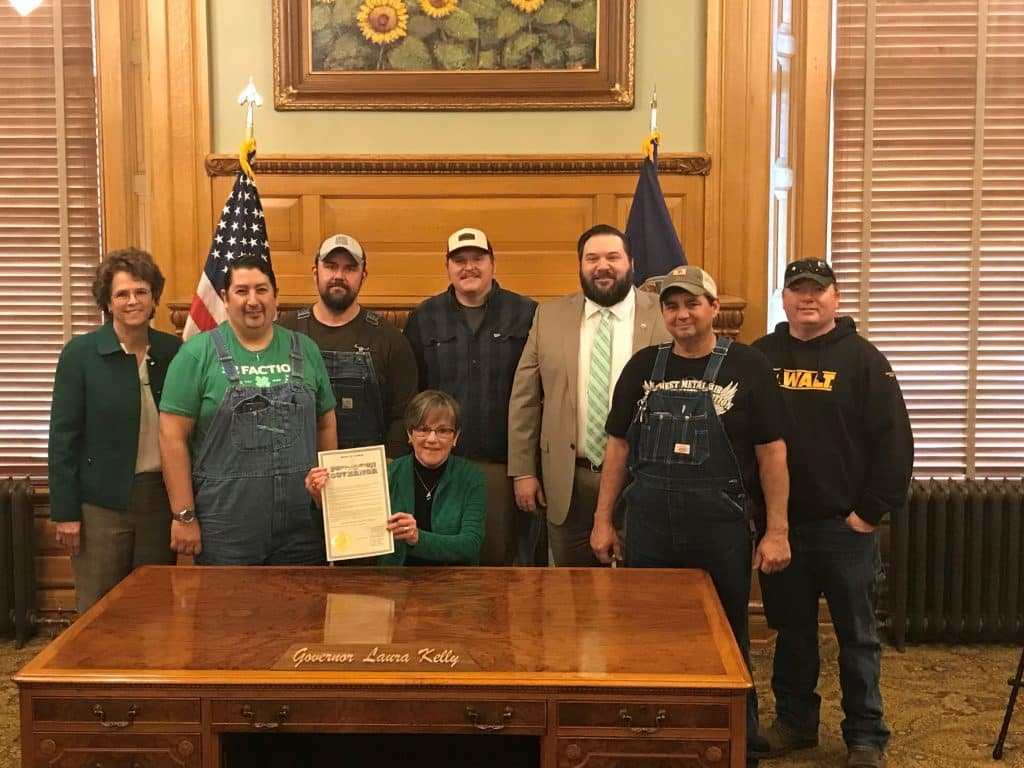 Pictured in the governor's office, left to right: Senator Carolyn McGinn (R); Mike Scheerer, LR Local 94; Troy Fansher, Local 1503; Governor Laura Kelly (seated); Nick Davis, Local 527; Ty Dragoo, SLD Kansas; Chad Henton, ASLD Kansas; Kyle Brooks, Local 1503.
In late April, members of the SMART Transportation Division joined Kansas legislators and Gov. Laura Kelly at the state capitol, where Gov. Kelly officially proclaimed April 28th "A Day of Honor and Remembrance for Railroad Workers" in the state of Kansas. Along with witnessing Kelly sign the proclamation, Legislative Representative Mike Scheerer of TD Local 94 (Kansas City), Troy Fansher of TD Local 1503 (Marysville), Nick Davis of TD Local 527 (Coffeyville), Kansas State Legislative Director (SLD) Ty Dragoo, Alternate SLD Chad Henton and Kyle Brooks of TD Local 1503 joined the governor to discuss the vital role railroaders play in the state and in the nation at-large — as well as honor, recognize and remember the ultimate sacrifice some railroaders have made.
"Today reflects our ongoing relationship with Kansas' government and the recognition that rail labor is vital to the state, and that we are appreciated," Dragoo said. "It is a proud day for Kansas' SMART Legislative Board."
Dragoo also noted that Gov. Kelly has been a steadfast champion of SMART TD members and all of railroad labor throughout her time in state government. "She has proposed the two-person crew regulation and has been a steadfast wall of support when legislation is directed to harm our jobs," he explained. "She has been there on every issue; she includes us in policy discussions, and we always have a seat in Kansas."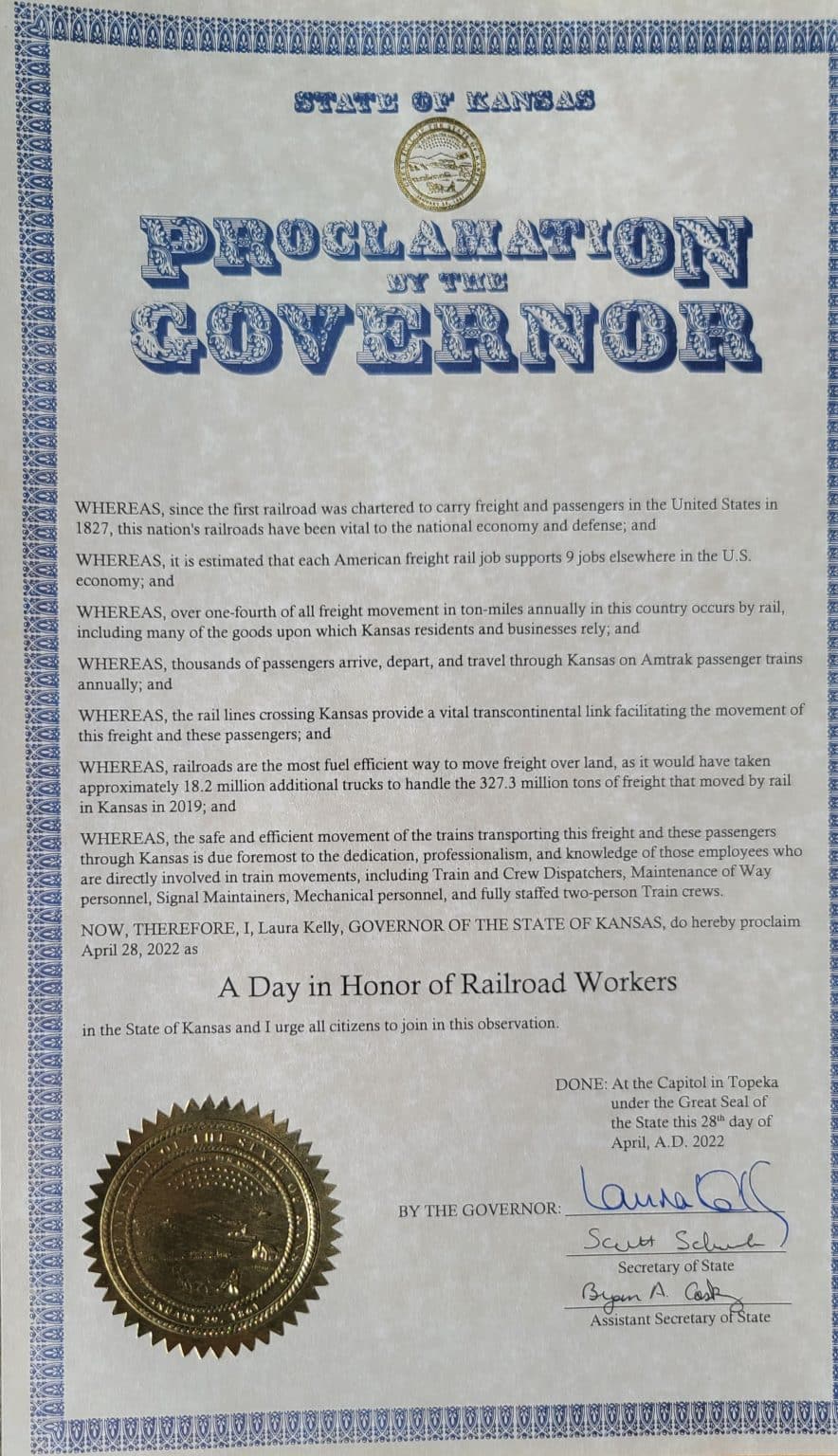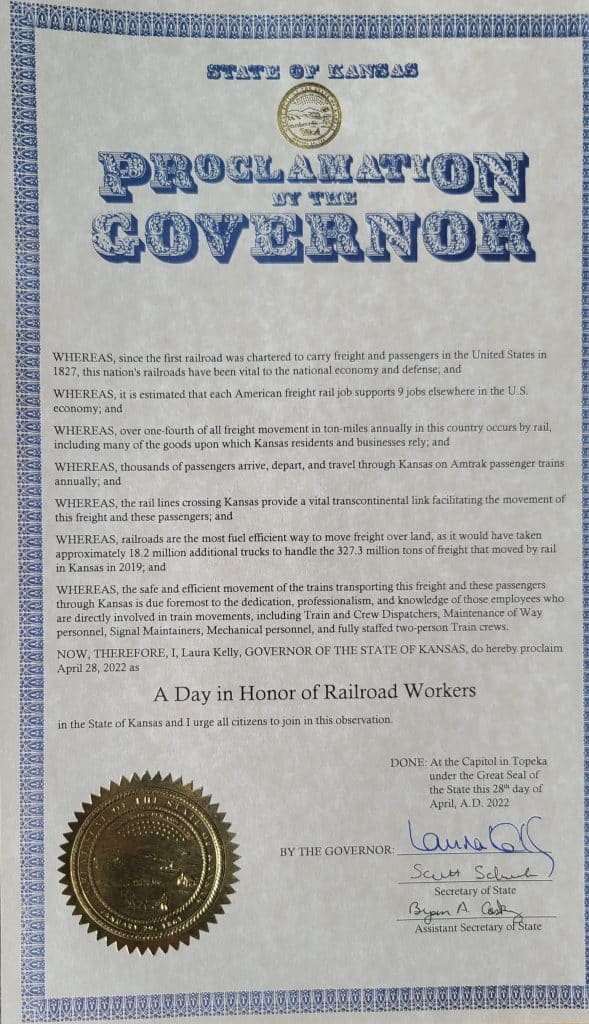 The text of the proclamation is below:
WHEREAS, since the first railroad was chartered to carry freight and passengers in the United States in 1827, this nation's railroads have been vital to the national economy and defense; and
WHEREAS, it is estimated that each American freight rail job supports 9 jobs elsewhere in the U.S. economy; and
WHEREAS, over one-fourth of all freight movement in ton-miles annually in this country occurs by rail, including many of the goods upon which Kansas residents and businesses rely; and
WHEREAS, thousands of passengers arrive, depart, and travel through Kansas on Amtrak passenger trains annually; and
WHEREAS, the rail lines crossing Kansas provide a vital transcontinental link facilitating the movement of this freight and these passengers; and
WHEREAS, the safe and efficient movement of the trains transporting this freight and these passengers through Kansas is due foremost to the dedication, professionalism, and knowledge of those employees who are directly involved in train movements, including Train and Crew Dispatchers, Maintenance of Way personnel, Signal Maintainers, Mechanical personnel, and fully staffed two-person Train crews;
NOW, THEREFORE, I, LAURA KELLY, GOVERNOR OF THE STATE OF KANSAS, do hereby proclaim the day of April 28, 2022, as A DAY IN HONOR OF RAILROAD WORKERS.