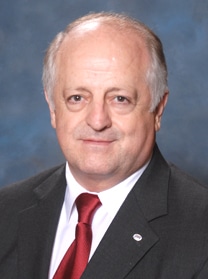 NEW YORK — If we don't vote our paychecks and help to elect labor-friendly candidates, then lawmakers seeking to reduce union-member wages and benefits and weaken workplace safety laws and regulations will be the ones controlling state and federal legislative bodies, UTU Assistant President Arty Martin warned members at the UTU's eastern regional meeting here.
In dozens of state legislatures, political extremists have introduced legislation to eliminate or curtail collective bargaining rights and otherwise reduce the ability of unions to represent working men and women, Martin said.
And in Congress, political extremists are pushing an agenda to weaken workplace safety regulation, fold Railroad Retirement into Social Security, privatize Social Security and Medicare, and privatize Amtrak as an initial step toward eliminating all federal subsidies for rail passenger service, Martin said.
Many of these political extremists, said Martin, came to office with support of union members who focused on emotional ballot-box issues apart from job security and workplace safety. "These issues are important to many of our members, but the most important issues are our jobs and the ability to return home safely from work," he said.
He used Ohio and Wisconsin as two examples. In both states, anti-union legislation was passed by state legislatures and signed into law. When union members realized that the rug had been pulled out from under collective bargaining rights, and that the political extremists supporting the bills had an even broader anti-union agenda, the lights went on in union households.
In Ohio, UTU members, other union members and other concerned citizens collected some 1.3 million signatures in a petition drive to put that state's anti-union legislation on hold pending a voter referendum on the bill this November.
And in Wisconsin, UTU and other union members collected sufficient signatures in multiple petition drives to force recall elections of many anti-union state senators who supported the legislation curtailing collective bargaining rights.
Martin urged UTU members to contribute to the UTU Collective Bargaining Defense Fund, which is fighting anti-union legislative efforts in various states, and to become more involved in the UTU PAC, which supports union-friendly candidates for state and federal office.