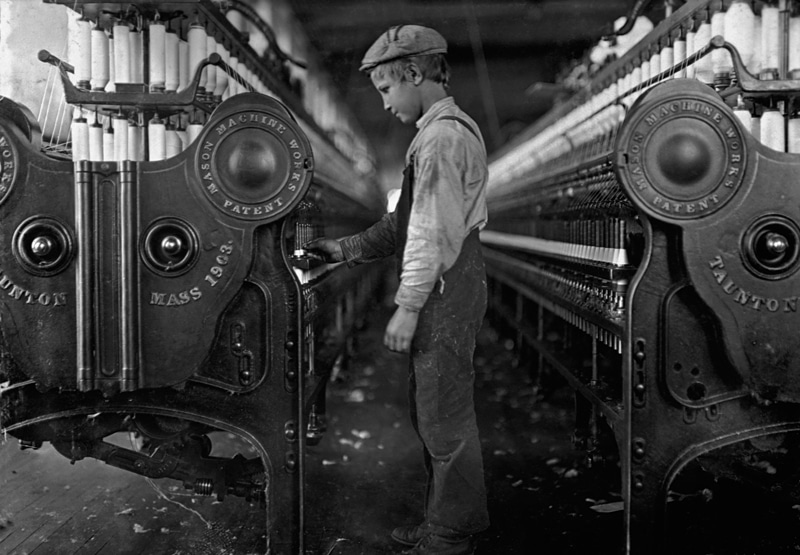 Images of child laborers — elementary-aged children covered in soot and grease stains, suffering the constant threat of injury and death — have long served as a reminder of our nation's progress.
For much of the United States' early history, especially during the industrial revolution, robber baron-esque employers relied on child labor to boost their profits, with child workers taking on long factory shifts and operating heavy machinery. The labor movement played a major role in outlawing such practices: fighting for minimum age laws and hour restrictions and eventually winning the Fair Labor Standards Act of 1938, which eliminated the practice of hiring minors in most indus­tries (and implemented regulation in others).
Now, unscrupulous employers and state governments across the country are trying to take us back to the dark ages – and it is crucial for union members to stand our ground. Pro-labor elected officials are playing their part: On October 26, Pennsylvania Senator Bob Casey and Washington Senator Patty Murray introduced the Children Harmed in Life-Threatening or Dangerous Labor (CHILD Labor) Act, which would greatly strengthen the penalties for employers found guilty of child labor law violations.
"These attacks on our chil­dren — and on the progress that past generations fought for tooth and nail — demonstrate just how low anti-labor forces will go in this country, and it is our duty as workers and members of the labor movement to fight against them," said SMART General President Michael Coleman. "We commend Senators Casey and Murray for introducing the CHILD Labor Act, and we encourage every senator who stands with American workers to sign on."
Assaults on American progress
In states across the country, Republican governors and GOP-controlled legislatures are pushing forward laws that roll back protections against child labor. Some have already succeeded: Arkansas Governor Sarah Huckabee Sanders codified legislation in March 2023 that gets rid of the state's law necessitating work permits — which required proof of age, parent permission and the employer's signature — for 14- and 15-year-old employees, despite a federal labor investigation that found children working illegally for a company that cleans hazardous meatpacking equipment in that state.
Later in the spring, Iowa Governor Kim Reynolds signed into law a bill that allows 14- and 15-year-olds to work up to six hours a day when school is in session, until 9 p.m. during much of the year and until 11 p.m. during the summer, and would let employers schedule 16- and 17-year-olds for the same hours as adults. The Economic Policy Institute reports: "As introduced, the bill proposed lifting restrictions on hazardous work to allow children as young as 14 to work in meat coolers and industrial laundries, teens as young as 15 to work on assembly lines, and 16- and 17-year-olds to serve alcohol, among a long list of changes."
Some proponents of these pieces of legislation have argued that they represent a solution for labor short­ages. But union members know the real reason: Bad-faith corporations and the politicians in their pocket would rather exploit children and take them out of school than provide the pay and benefits that workers deserve.
These legislative efforts are occur­ring at a time when child labor law violations are rapidly rising. The Guardian reports that in the most recent fiscal year alone, "the US Department of Labor wage and hour division reported 835 cases of child labor violations affecting 3,876 minors, and 688 minors employed in violation of hazardous occupation, a 283% increase since 2015."
The individual instances are chilling: In May, the Department of Labor discovered a McDonalds in Louisville, Ky. illegally employing two 10-year-olds. A CNN investigation found children working in a Nebraska slaughterhouse; the Department of Labor discovered more than 100 kids working in dangerous condi­tions, with some reporting that they suffered from chemical burns. And in Alabama, numerous factories that are links in the Hyundai-Kia supply chain are under investigation for employing workers as young as 14 years old.
Similar to the instances of wage theft and worker misclassifica­tion often seen in the construction industry, many child labor-law violators specifically exploit migrant children who don't know the law or feel they have no other options. The New York Times reported that tens of thousands of migrant children are employed across the United States, including teenagers — and younger — working in construction and roofing.
"From production facilities to construction job sites, bad-faith contractors are exploiting those who most need protection," Coleman noted. "SMART and the labor movement will stand on the side of the oppressed. We will continue to organize for stronger workplace protections across the country, we will beat back child labor law viola­tions wherever we see them, and we will work with pro-labor allies in office to strengthen laws that protect our families."