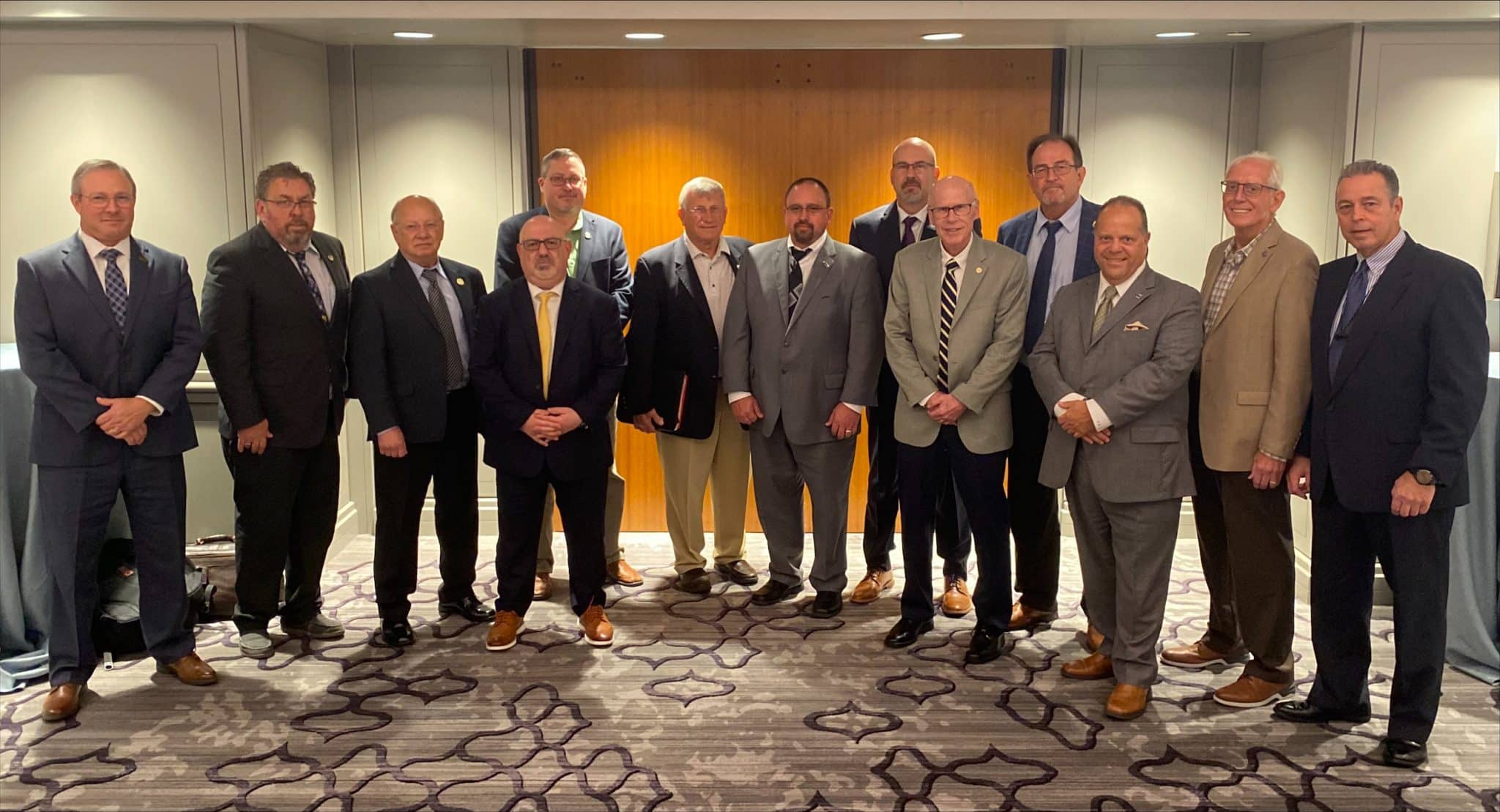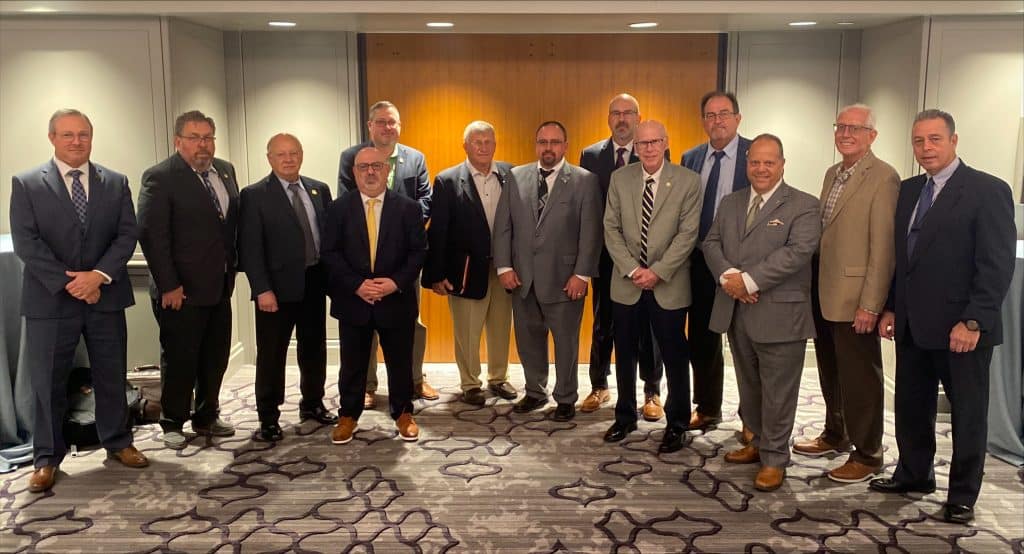 Brothers and Sisters of our unions:
Presidential Emergency Board ("PEB" or "the Board") 250 conducted hearings in Washington, D.C. this past week, concluding on July 28th. We both were honored to represent our unions and, by extension, the memberships of the dozen strong United Rail Unions as we presented and testified in support of our unified case to the PEB. We are sharing this joint message to ensure that our members are up to date on all of the bargaining round issues.
For the first time in history, the 12 United Rail Unions, representing 115,000 members in every craft in the industry, presented a unified case on wages, healthcare, sick leave and holidays to the Board. Also for the first time in history, SMART-TD and BLET presidents made joint presentations on our unions' proposals to eliminate carrier-imposed attendance policies, provide for voluntary rest days for road crews, and to increase away-from-home terminal meal allowances. In addition, BLET Director of Benefits Dan Cook, who also serves as the Cooperating Railway Labor Organizations' administrator, testified in support of the United Rail Unions' unified Health and Welfare proposal and SMART-TD VP Brent Leonard testified in opposition to the crew consist issues that the carriers attempted to improperly raise in this proceeding.
At the conclusion of the first day of hearings on July 24, and in an effort to keep our memberships current on the status of the bargaining round, the United Rail Unions released summaries of our final proposals before the Board, as well as the carriers' final proposals. Those proposals are still available on our union websites. We encourage all members to take the time to review them, and more importantly, realize just how far apart the two sides remain after more than two and a half years of negotiations.
As has been said since an update from the Coordinated Bargaining Coalition in January 2021 and in every update from rail labor since, it is also important to remember who is responsible for the absence of an acceptable National Rail Contract settlement. By reviewing the carriers' final proposal presented before the PEB, it remains all too evident that they continue to refuse to make a realistic and worthy proposal that our voting members would ratify. That is why our contract dispute has reached a PEB, one of the final steps under the Railway Labor Act.
Regarding the unions' final presentation before the PEB, it's important to see how the union leadership arrived at their final proposal. Both parties served Section 6 notices in this round of bargaining at the start of negotiations in late 2019. Those notices are a mandatory starting point in the bargaining process, and generally include every item on which each individual union seeks to negotiate. As the parties negotiate, each side's list of issues is prioritized to ensure that the most important ones are addressed in the ultimate contract settlement.
This bargaining round was no different. Based on membership feedback, several items were initially identified early on as key priorities including, increasing wages, rejecting concessions on healthcare, addressing unreasonable attendance policies and paid sick leave, and establishing predictable time away from work. The need for paid sick leave without penalty became even more evident with the pandemic and the manpower shortages caused by carriers' continued mismanagement.
Leadership of the SMART-TD and BLET collaborated on presenting our craft-specific issues throughout negotiations and collaborated with our entire bargaining coalition on our shared issues. But, as is now obvious, the carriers refused to engage in meaningful bargaining on our most important issues. Multiple proposals were exchanged over these last two and a half years, including varying wage proposals, all in an effort to come to a voluntary agreement worthy of ratification by the membership.
Nowhere else was the distance between the sides more evident than in the discussion of wages. Contracts of both five- and six-year durations were proposed and discussed, driving differing values for the wage package. Our last unified wage proposal as we were released from mediation in June contained a six-year proposal with wage increases occurring July 1st of each year totaling 40%, with 36% of that payable in the first five years. In contrast, in January of 2022, the carriers' proposed wage increase totaling 11% and their last proposal as we were released from mediation was a five-year proposal with wage increases occurring on July 1st of each year totaling 14%.
With a gap that wide, it was no surprise that voluntary efforts, as well as mandatory government-sponsored mediation, failed to reach an agreement. Once the parties were released from mediation, the United Rail Unions immediately began work preparing their final unified proposal to be presented to the PEB. That process included union leaders, the unions' collective legal counsel, health care experts, and an expert economist. In the end, the unions agreed to present the summarized proposal shared with our memberships on July 24 at the close of the first day of hearings.
Before we get into the wage proposal numbers, it is important to understand the status of our negotiations as we went before the PEB. The PEB is not the start of negotiations. As explained above, the start of the negotiations happened when our lengthy Section 6 notices were served in 2019. Further, the PEB hearing is not a negotiation; it is an opportunity for both sides to present their final proposals, which must be supported with extensive economic data through live testimony. In this case, the hearing spanned five days, where both parties made presentations by expert witnesses to support their proposals.
In crafting the unions' final wage proposal, and knowing that those proposals had to be supported by our expert economist, an in-depth analysis was conducted — taking into account long-term wage growth, past and present, as well as increases in the cost of living for the years covered by the agreement. Consideration also had to be given to the financial value of the other non-wage proposals going before the PEB as part of crafting a final proposal that we believe the Board would recommend.
In the period between the close of NMB mediation in June and the PEB hearings in July, and after consultation with the unions' economic expert, the unions determined that the wage proposal that could be best supported by our economic data was a final, unified proposal totaling a 28% gross wage increase (GWI), uncompounded, over five years. While some saw that move from our previous position of 36% over five years as too big, it is not certain that they understood the proposal's other terms.
One other component of our final proposal was to move from the July 1 annual wage increase dates in our 36% proposal, to annual January 1 wage increases. The effect of this change is fairly simple math — paying each raise six months sooner doubles the value of each wage increase in the year it is applied. In fact, on a base salary of $100,000, advancing the GWI schedule by six months each year generates additional compensation of over $15,000 during the term of the agreement as compared to July 1 annual increases. For someone with a base salary of $75,000, the advancement generates additional compensation of over $11,000 during the term of the Agreement — vastly reducing the financial gap between the 28% and prior 36% proposals. On the same base salaries, the unified proposal with the earlier effective dates would also generate in excess of $20,000 and $16,000, respectively, in back pay for the years 2020, 2021 and 2022.
While we do not agree that it should impact the PEB decision, the history of wage increases in our National Agreements was part of the carriers' presentation in opposition to not only our proposed wage increase values, but also against the earlier annual increase dates. That history is straightforward; no National Agreement in the past 45 years has included GWIs totaling over 18% for a five-year period. Regardless of that history, our economist clearly laid out the economic support for the 28% wage proposal presented to the PEB.
Our health and welfare experts also made the case that no additional health and welfare costs should be pushed onto employees. We made the case for needed sick days and additional holidays for all involved Unions. We made a joint case for eliminating all non-negotiated attendance policies, allowing General Committees to serve notice to compel on-property bargaining for voluntary rest days, and improvements to our held away meal allowances.
All in all, the United Rail Unions made a sound, reasonable case before the PEB. We must thank our team's legal counsel, health care experts, expert economist and all of the witnesses who gave testimony on behalf of our United Rail Unions. In the coming weeks, we will receive the PEB's recommendations for settlement of our dispute and then consider them.
While it was not possible, we also wish every member of every union could have attended the hearings before PEB 250 and to have had a chance to testify on their own behalf about the conditions, the struggles, and the situations that carriers have created for the people whose work brings them profit. Through their actions, and in the case of these drawn-out negotiations, their inaction, the carriers' cavalier and pay-no-heed attitude toward our brothers and sisters who did the work through a pandemic, through job cuts and through an ongoing supply chain crisis could not be clearer. They do not care to either understand or respect their employees. Some of their assertions, such as how happy their employees are, were beyond belief — even to those of us that have heard their spin before. We refuted them all.
Following the recommendations of the PEB, the parties have another 30-day cooling off period to consider the recommendations and reach an agreement. If the carriers continue to refuse to make a ratifiable proposal, very critical decisions will have to be made during that period. As has been said time and again, do not listen to the carrier moles and trolls that attempt to blame this situation on the employees or their Unions. They are only attempting to divide us as we close in on the final months of this round of bargaining. Among our unions, our solidarity is our strength. Please do not allow those attempting to divide us to succeed.
In solidarity,
President Jeremy Ferguson
SMART Transportation Division
President Dennis Pierce,
Brotherhood of Locomotive Engineers and Trainmen