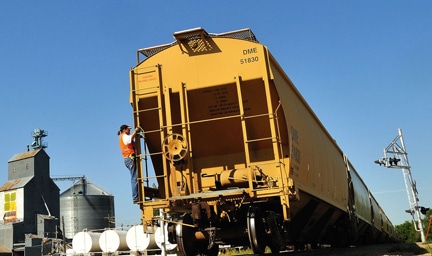 WASHINGTON – It's now official. Conductor certification, mandated by the Rail Safety Improvement Act of 2008, became effective Jan. 1.
In a final rule, published by the Federal Railroad Administration Nov. 9, railroads were ordered to implement, by Jan. 1, a formal training program for certifying conductors and a formal process for training prospective conductors, thus ensuring job competency.
The FRA's final rule on conductor certification follows many of the provisions of locomotive engineer certification, with a number of improvements the UTU, joined by the BLET, was able to obtain.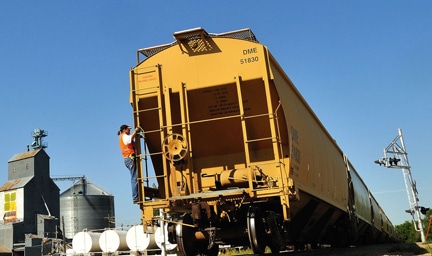 Following are highlights of the final rule, which ran almost 300 pages in the Nov. 9 Federal Register.
* While the railroad and its employees must comply with the final rule, there is no limitation on any rights the employee may have under a collective bargaining agreement
* Conductors currently employed will be grandfathered for from one to three years, with one-third of those conductors required to be tested for certification in 2012, 2013 and 2014. Beginning in 2015, one-third of the total conductor workforce will be recertified each year.
* Each railroad, in submitting its proposed certification program to the FRA for approval, must simultaneously submit it to the presidents of the UTU and BLET, which will have 45 days to comment. The intent is to encourage coordination by carriers with local union officers in formulating the certification program, and to gain a supporting statement from the general committee of jurisdiction.
* A conductor losing certification may work as an assistant conductor, brakeman, yard helper, switchman or utility employee, but cannot work as a locomotive engineer. If that individual holds both conductor and engineer certification, and the engineer certification is revoked, they may not work as a conductor.
* If the conductor certificate is revoked because of failing to control a train, violation of train speed, violation of brake test requirement, occupying main track without proper authority, tampering with safety devices, or an alcohol or drug violation, the decertified conductor may not work as a locomotive engineer. However, if the decertification is for violation of a rule covering shoving or pushing movements, or equipment left out to foul track, switches and derails, the decertified conductor may work as a locomotive engineer.
 
* The conductor must be trained by a qualified person on the territory over which that conductor will operate. If the certified conductor lacks territorial qualification, and has never been qualified on main track physical characteristics, that conductor shall be assisted by a person who is a certified conductor qualified on the territory, and NOT a member of the crew.
* If the conductor has been previously qualified over the main track territory, and the time limits have expired on their qualification, the conductor may be assisted by any knowledgeable person, including a member of the crew, other than the locomotive engineer on the crew, so as not to conflict with other safety sensitive duties.
* If the conductor lacks territorial qualification on other than main track, the conductor, where practical, shall be assisted by a certified conductor meeting the territorial qualifications. Where this is not practical, the conductor shall be provided an appropriate job aid, which includes maps, charts or other visual aids of the territory. This applies to all tracks on each territory.
* Territorial qualification is not required for short movements of one mile or less where track speed is 20-mph or less and movement is required to be at restricted speed, and the track grade is less than 1 percent.
 
Prior to revoking conductor certification, a railroad must:
* Provide notice of the reason for suspension, and an opportunity for a hearing before a person other than the investigating officer. Written confirmation of the notification shall be in accordance with the collective bargaining agreement. Additionally, the hearing shall be in accordance with the collective bargaining agreement, but shall be convened within 10 days after the certificate is suspended, unless the conductor asks for a delay.
* Provide, no later than convening the hearing and notwithstanding any collective bargaining agreement, a copy of the written information and a list of the witnesses the railroad intends to present at the hearing. The railroad shall grant a recess if the information is provided just before the hearing. If the information is provided through written statements of an employee, the railroad shall make that employee available for examination during the hearing.
* Not revoke certification or recertification if there is sufficient evidence that an intervening cause prevented or materially impaired the conductor's ability to comply with requirements.
Additionally, with regard to conductor certification:
* The appeal procedures largely mirror engineer certification regulations.
* The training requirements for new conductors are significantly improved from current requirements. In addition to improved initial training, this rule requires recurrent training for all conductors every three years during the recertification process. The recurrent training must be identified in the certification plan filed with FRA, including changes in operating rules, operating practices, new federal regulations and new equipment in service.
"The implementation of conductor certification enhances the skills and safety performance of freight and passenger conductors, provides a federal license ensuring proper training of conductors, and establishes a new basis for resisting management pressure to violate operating rules and federal regulations," said UTU International President Mike Futhey.
The final rule is a result of input from all affected parties, including labor, through the FRA's Rail Safety Advisory Committee (RSAC).
The UTU was represented on this RSAC Conductor Certification Working Group by Local 645 Chairperson Vinnie Tessitore, Local 1470 Chairperson David Brooks, General Chairperson (GO 049) John Lesniewski, Local 528 Legislative Representative Ron Parsons, Alternate National Legislative Director John Risch, National Legislative Director James Stem, and UTU Rail Safety Coordinator for Designated Legal Counsel Larry Mann.
Click here to read the 278-page final rule on conductor certification.
Click here for more information on conductor certification.