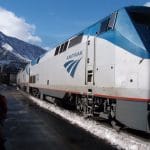 WASHINGTON — Congress, unable to agree on very much lately, has agreed on funding for Amtrak, bus transportation, commercial aviation and transit through Sept. 30, 2012.
The funding is for fiscal year 2012, which began Oct. 1. Earlier, Congress agreed to legislation extending FY 2011 funding until final agreement on FY 2012 funding could be reached.
AMTRAK
For FY 2012, Amtrak will receive $1.42 billion, or $64 million less than Amtrak received in FY  2011. The 1.42 billion includes $466 million for operations — 17 percent below operating assistance provided Amtrak for the previous fiscal year. The remainder, or $952 million, is for capital improvements and debt service — 3 percent above what was provided for capital improvements and debt service in FY 2011.
In a victory for Amtrak, Congress agreed to scrap an earlier House effort to eliminate the use of federal dollars for 26 state-supported Amtrak routes, which help fund some 150 regional passenger trains serving nine million passengers annually.
However, Congress chose to zero-out new funding for higher-speed rail. President Obama had proposed $3.6 billion for higher-speed rail for FY 2012 (and $53 billion over six years), and the Senate had proposed $100 million for FY 2012. Rep. Jerry Nadler (D-N.Y.), a member of the House Rail Subcommittee, said of the funding cut:
"I truly believe that it is the best we are going to do in this current economic climate. High-speed rail should be an option between any cities within a 500-mile radius, providing competitive trip times and fares, freeing up airspace and benefitting our environment, economy and national security. It makes no sense to abandon our efforts to develop high-speed rail in this country, so I hope the Republicans abandon their efforts to kill it."
Congress also agreed to limit overtime payments by Amtrak to no more than $35,000 per employee, although there is an exemption if Amtrak finds that the cap for any specific employee would pose a risk to safety or operational efficiency.
BUS and TRANSIT
Congress voted $2.1 billion for the Federal Transit Administration, which includes an $18 million increase in funding for state and local bus grants to $8.3 billion for FY 2012. Also provided is $1.9 billion in grants for new bus and transit start-ups – an increase of $358 million from FY 2011. However, the legislation limits the federal share of new starts to 60 percent, which could pose problems for budget-challenged municipal transit agencies.
Congress has yet to agree on allowing a portion of federal dollars earmarked for new equipment and facilities to be used by municipalities and states for operations so as to retard elimination of bus routes and employee furloughs. The UTU National Legislative Office continues to educate congressional lawmakers on the importance of allowing such flexibility.
AVIATION
Congress funded the Essential Air Service program at $144 million for FY 2012, but included language limiting funds to communities that first received Essential Air Service grants in FY 2010 and FY 2011. Congress remains deadlocked on longer term authorization for the Essential Air Service program.
Additionally, the Federal Aviation Administration received $12.5 billion – an increase of $137 million from FY 2011 – for airports, facilities and equipment, as well as for the Next Generation Air Traffic Control System.