Dennis J. Schweitzer, former chairperson of the UTU's Canadian Legislative Board and the Ontario Provincial Legislative Board, died April 4.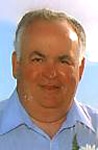 A member of the former UTU Local 472 at Windsor, Ontario, Schweitzer, 64, had also served as vice chairperson of the Canadian Workers' Compensation Board following his appointment by Ontario Premier Robert Rae.
"Everything he did revolved around helping injured workers," said UTU Executive Assistant to the President Tim Secord, who was the UTU's former Canadian legislative director.
Schweitzer is survived by his wife, Pauline, children Carolyn and Erin, and grandchildren Jack and Ellie.
A visitation will be held at Bay Gardens Funeral Home, 1010 Botanical Dr., in Burlington, Ontario, Friday, April 6, from 6-9 p.m The telephone number is (905) 527-0405.
A celebration of Dennis's life will be held in the Bay Gardens Chapel Saturday, April 7, at 1 p.m., with inurnment to follow at Bayview Cemetery Crematory Mausoleum.
In lieu of flowers, donations made in memory of Schweitzer to the Donkey Sanctuary of Canada would be appreciated by the Schweitzer family.
An online book of condolences can be signed at www.baygardens.ca.