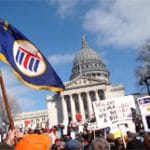 Republican Gov. Scott Walker, the architect of anti-union legislation in his state, faces a recall election in June. He becomes the first governor in Wisconsin history to face recall.
The UTU, through its Collective Bargaining Defense Fund, worked with other labor  organizations, including the Sheet Metal Workers International Association, to obtain almost one million signatures forcing the recall election — almost twice as many as required.
The New York Times reports that, in the nation's history, only two governors have been removed from office through recall votes: California Gov. Gray Davis in 2003 and North Dakota Gov. Lynn Frazier in 1921.
A former White House counsel to President George H.W. Bush, C. Boyden Gray, was quoted that the Walker recall election "has national implications" as working families react to a string of attempts by conservatives in many states to restrict collective bargaining rights and limit the ability of labor unions to represent workers.
Also facing recall in June are Wisconsin Republican Lt. Gov. Rebecca Kleefisch and three Republican state senators, all of whom supported the anti-union legislation; while a fourth resigned from office prior to facing a recall election. That vacant seat will be filled also in the June election.
In August 2011, two state senators who had supported Gov. Walker's assault on collective bargaining rights were successfully recalled and replaced by more moderate lawmakers.
In 2011, the UTU Collective Bargaining Defense Fund was instrumental in overturning, at the ballot box, an Ohio law restricting collective bargaining rights.
Meanwhile, a federal court in March invalidated portions of the Wisconsin law – one provision requiring annual recertification of a union, and another denying workers the right to have union dues withheld from their paychecks. Both were found in violation of constitutional free speech rights.