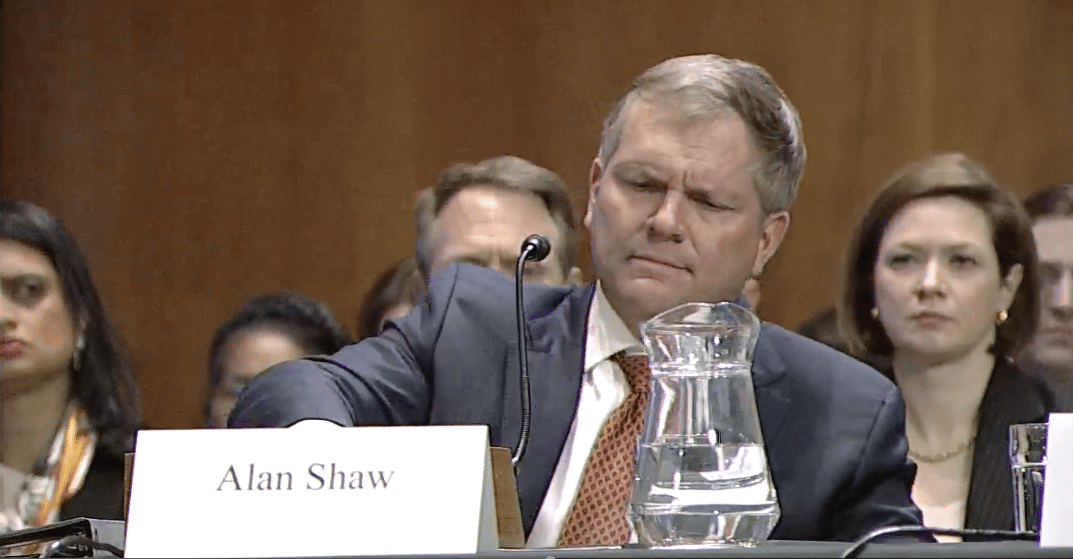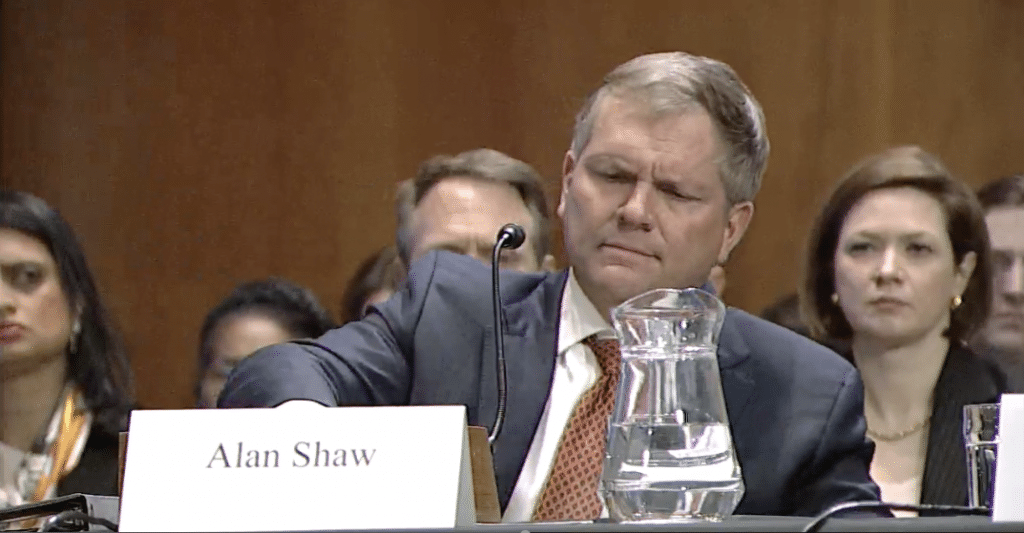 "From the Ballast" is an open column for SMART Transportation Division rail members to state their perspective on issues related to the railroad industry. Members of the union are encouraged to submit content by emailing to news_TD@smart-union.org. Columns are published at the union's discretion and may be published in the SMART-TD newspaper.
Most of us with any amount of time on the railroad have the shared experience of feeling the hot seat that comes with a company discipline hearing. These kangaroo courts are not set up to be fair and impartial fact-finding missions. As we all know, they are an exercise in intimidation meant to make us feel as uncomfortable as possible. If they can add the bonus of humiliation on top of the penalty they're threatening to impose, it makes the experience so much better.
The U.S. Senate's Committee on Environment and Public Works' hearing March 9 put Norfolk Southern CEO Alan Shaw in our shoes for once (and not that pair of work boots he acquired to look like a relatable guy when the cameras were filming him in East Palestine, Ohio). For once, the so-called "big boss" got to experience the discomfort and frustration of when people in authority demand an explanation and accountability. It was very reminiscent of how we feel in similar situations when we're getting grilled by railroad managers like Shaw.
It was hard to feel any sympathy. Yet while every senator seemed poised to force Shaw's hand, each stopped just short of going in for the kill. Those who did ask hard questions were given lukewarm half-answers — snippets from the well-rehearsed lines that he has been using since the derailment happened. He appeared like he was simply spinning his greatest hits album of the soundbites that scored highest in a focus group.
Based on the fact that the hearing went for over a third of the time a rail crew has off between shifts these days, most members likely didn't have the opportunity to watch. In an effort to put a bow on it, the hearing broke down like this:
CEO Shaw was asked about as many questions as you could fit into the 3-hour, 19-minute hearing but somehow managed to answer every one of them with one of the following responses on a loop.
I have only been the CEO since May 2022.
I am personally determined to make this right for the community of East Palestine.
Norfolk Southern will be in East Palestine tomorrow, next month, next year, and ten years from now.
We created a new website in response to the disaster.
After seeing his performance, (and that was exactly what it was) I would offer Mr. Shaw some advice. First, he should hire a new acting coach to help him get through these situations. His entitled angry Wall Street CEO reality leaked through the repentant empathetic "Mother Teresa" persona that he was trying to adopt before the panel as penance for the misery that's occurred in East Palestine.
Second, I would advise him to learn the value of direct answers. He was asked yes/no questions time and time again and offered answers that went on for minutes at a time and somehow did not include either of those two words to definitively answer what was asked.
Since the senators were allotted a limited amount of time for their questions, Shaw was successful in running out the clock by playing a version of corporate prevent defense. But where he succeeded in not being pinned down to anything that could be held up in court as a commitment, he failed to move the needle in the court of public opinion. His wishy-washy answers, devoid of authenticity, full of unwillingness to commit to substantive industry change away from Precision Scheduled Railroading, and the recurring theme of "we'll consider throwing more money at the problem we created," clearly angered the senators on the Committee of Environment and Public Works. We will see what effect they have on the all-important shareholders of Norfolk Southern. His appearance did nothing to inspire the confidence of SMART Transportation Division.
Among some of the questions from the senators that Shaw artfully dodged were:
What did NS learn from the 20th derailment that resulted in a chemical release since 2015 that it didn't learn from the 5th, the 10th, or the 15th? — Sen. Debbie Stabenow (D-Michigan)
Will you lead the rail industry in getting away from the business model known as Precision Scheduled Railroading? — Senator Bernie Sanders (I-Vermont)
Was the owner of the rail car in question who is responsible for its maintenance and contents involved in the decision to vent it and burn off the contents of it? — Sen. Markwayne Mullin (R-Oklahoma)
One last highlight came from Sen. Sheldon Whitehouse (D-Rhode Island). It wasn't posed as a question, but in Whitehouse's comments, he stated that, "Mr. Shaw, the news is reporting that there has just been a significant derailment in Alabama of one of your trains. I certainly hope that all of your team and anyone in the vicinity is safe and well. You may need to look into that."
Though the net result of the hearing was minimal, CEO Shaw came out of it looking highly frustrated, but less than trustworthy. He was clearly uncomfortable being held accountable for the unintended but inevitable consequences of his company's embrace of PSR.
What left me with an uncomfortable feeling was that Shaw continually framed all the promises made to East Palestine and surrounding communities as "personal commitments." As anyone on the rail can tell you, nothing is true or real in this industry until it is. There is no such thing as a guarantee. With all of the commitments coming from Shaw personally, it raises the question of what happens if NS fires him?
Likely, he'll float away comfortably from East Palestine on his golden parachute, make a comfortable landing elsewhere — maybe as an industry lobbyist — and the Ohio village residents he testified to have such an affinity with would be left holding a bag full of empty promises, just like every one of us railroaders with wallets full of unfulfilled IOUs from Class I managers.
Daniel Banks is a Class I certified conductor and government affairs representative for the SMART Transportation Division.