It is said that "all politics is local," and a hero co-pilot with U.S. Airways made a symbolic gesture in Madison, Wis., last week on behalf of the public employees whose collective bargaining rights are under attack.
He withdrew hundreds of thousands of dollars of his personal savings from a Wisconsin bank whose executives are said to have financially contributed to the election of Wisconsin's union-busting governor, Scott Walker.
Jeff Skiles is remembered as the co-pilot, with Capt. Chesley "Sully" Sullenberger, of the U.S. Airways Airbus A320 with 155 passengers aboard that was disabled by a flight of geese on takeoff from New York's LaGuardia Airport in January 2009. The two brought the plane down safely into the icy Hudson River, minutes after takeoff, without loss of life — the now famous "Miracle on the Hudson."
Skiles is a member of the Air Line Pilots Association and a staunch union brother. "They [M&I Bank executives] have supported Gov. Walker and I wanted to send a message to them," Skiles told the Milwaukee Journal-Sentinal. Skiles reportedly deposited the money in another bank.
Skiles also participated in rallies in Madison, Wis., in support of public employees targeted by union-busting right-wing extremists in the state legislature.
Separately in Wisconsin, the Republican attorney general on March 21 asked a state appeals court to lift a temporary restraining order issued Friday that blocks implementation of the state law revoking public employee collective bargaining rights.
The Court of Appeals has asked for additional information and it is not known when the appellate court may rule. The Republican attorney general alleges the granting of the temporary restraining order against the law is an "overreach" against the legislative branch.
The lower-court judge who issued the temporary restraining order will hear further arguments later this month, and could make the order permanent or revoke it. The appellate court also could overrule the lower court decision.
Wisconsin newspapers speculate the case is likely to reach the state's supreme court.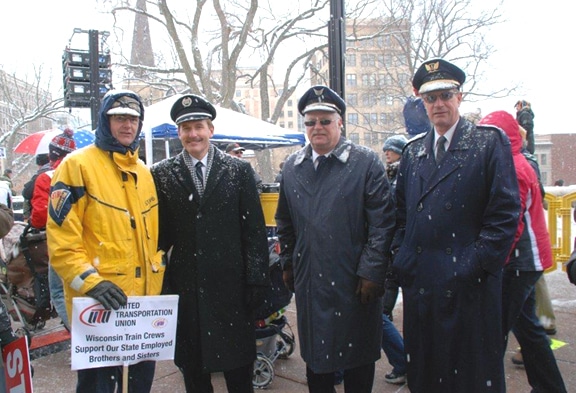 Hero co-pilot Jeff Skiles, second from left, and two unidentified flight officers, join with UTU General Chairperson UTU Jim Nelson (CP, GO 261) at a rally in Madison, Wis., last week in support of collective bargaining rights.