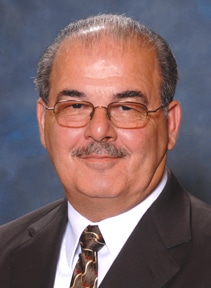 By Vic Baffoni
Vice President, Bus Department
These are troubling times for our nation, states and municipalities. Budget problems are forcing cutbacks in a wide variety of public services, and public transit often is targeted for cuts.
At the extreme is the union busting going on in Wisconsin, Indiana, Ohio and other states. But even where labor union collective bargaining isn't under attack, we are facing severe challenges at the bargaining table and with cutbacks in service.
In the not too distant past, when the good times seemed as they would never end, government agencies borrowed and committed to future obligations. The future is now here and it is not a pleasant environment.
The UTU has negotiated some of the best contracts out there, but the economic landscape is now very different. Transit systems have laid off thousands of employees and reduced funding for services.
In Los Angeles, where the UTU represents more than 5,000 rail workers and bus operators, negotiations with the Los Angeles Metropolitan Transportation Authority are slow moving and tense.
The State of California has been furloughing workers, while many cities and counties have frozen wages and benefits as they struggle to pay their obligations. The mood of taxpayers is that taxes should not rise.
Too often, the lawmakers who approve budgets — even those who historically have been union friendly — are turning a deaf ear on the needs of working families, who are struggling to keep their homes and put food on the table.
In this environment, I commend LACMTA General Chairperson James Williams (GO 875) and his negotiating committee, which includes Robert Gonzales, Lis Arredondo, Ulysses Johnson, Eddie Lopez and John Ellis. They are committed to protecting and preserving everything in our contracts and are working tirelessly to improve working conditions and job security for the membership.
I remain confident in their abilities. They are among the best of the best at the bargaining table, as is evidenced by the contracts produced in the past.
In addition to fighting for members at the bargaining table, Mr. Williams and Local 1608 Chairperson John Ellis have recently won a significant arbitration case on behalf of bus operator Adalid Morgana, who had been terminated following an accident.
Working on Mr. Morgana's behalf, the UTU prevailed on evidence presented in the arbitration and won for him back pay and benefits.