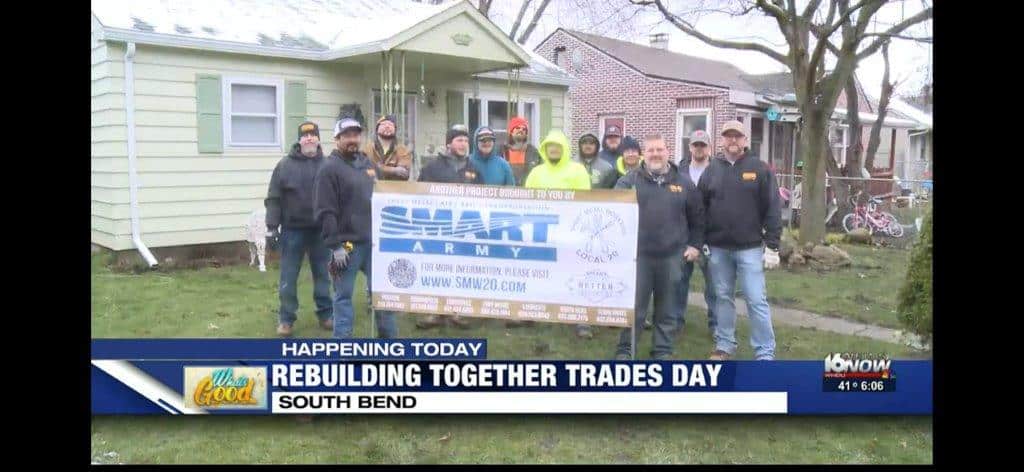 On April 9, 2022, the SM Local 20 (South Bend, Ind.) SMART Army was out in full force, helping Rebuilding Together St. Joseph County rehabilitate the homes of low-income homeowners in the local community. This year, 13 volunteers — from journey people to apprentices — took part in the effort, meeting at the Local 20 union hall for breakfast and coffee before loading up the materials and getting to work.
"All of the journey people that volunteered have been doing it for many years, since they were apprentices," said Local 20 Business Rep. Kreg Homoky. "It is a tremendous help having their leadership there."
Members of Local 20 have been volunteering for Rebuilding Together since 1989, the year the program (then called Christmas in April) first started. Rebuilding Together is a nonprofit, community- based coalition of volunteers from local government, businesses and other nonprofit groups that rehabilitate the homes of low-income homeowners and improve neighborhoods, with priority given to elderly (over 60 years of age), disabled and/or veteran homeowners.
On two April Saturdays each year, approximately 1,000 skilled and unskilled volunteers join together to make repairs to about 20 homes in a selected St. Joseph County neighborhood. All repairs are completed at no cost to the homeowner.
"Once the houses have been selected, we visit each house to decide which house could utilize new gutters," Homoky said. "We concentrate on gutters because years ago, we were looking for a way to be involved in the program and most houses seem to need gutters. We measure each house and order the material from the local supply house and have it delivered to the union hall. We purchase the coil material for the seamless gutter and deliver it to our local contractor to run off the needed lengths, and they deliver those to the union hall."
Local 20 volunteers: Bill Geers, Don Taber, Michael Edmonson, David Hinegardner, Dan Choi, Pedro Rameriz, Timothy VanHulle, Josh P. DeLaurelle, Sam Troeger, Joseph Staszewski, David Parker, Aron Rotering and Kevin Needham.