The SMART Transportation Division in Illinois has been a beacon of productivity and progress for years.
Mirroring the state's central role as a hub where the nation's major Class I carriers operate, SMART-TD's Illinois operation has plenty of accomplishments and fights won over the last two-plus decades.
During this period of success, there's been one consistent throughline. For the last 23 years, the steady hand on the wheel has been Tina O'Brien.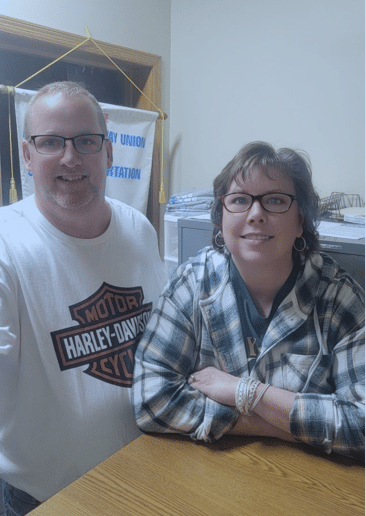 Tina has announced her retirement effective at the end of the month, and SMART-TD would like to thank her for a career of outstanding service to our members.  
She started with SMART-TD in 2000, hired by Illinois State Legislative Director Joe Szabo. In the intervening years, she was part of the movement that saw our Illinois members advance two-person crew legislation all the way to the governor's mansion, play a central role in infrastructure strategy around Chicago and elsewhere and move ahead with enhanced protections for transit members working for Metra and elsewhere.
"Tina was so much more than an administrative assistant or office manager – she was always an integral part of the team working together to serve the membership," said Szabo, who later became Federal Railroad administrator.  "I owe a great debt of gratitude to her, and her husband John. They both have earned a long and happy retirement!"  
In 2009, Szabo went to D.C. to assist the national legislative office before his confirmation as FRA administrator, and the reins of the Illinois State Legislative Board were handed over to current SLD Bob Guy. Luckily for Brother Guy, Tina stayed on and was an invaluable source of institutional memory. O'Brien and Guy have proven to be a formidable combination.  
"From Day One, Tina has been instrumental for me as I grew into the position of state director. I leaned on Tina for so much early on since I couldn't reach out to my predecessor, Joe Szabo, as he had headed off to lead FRA," Guy said. "Her commitment to our board and our Illinois members is evident to anyone who knows her.  She's always been proactive in helping solve problems or answer questions for our members when they call.  Knowing the industry intimately herself, she has always taken pride in helping our members through the rough times, especially the work she did in helping us assist our locals through the early stages of the COVID pandemic and through the national agreement fight and near strike last year.
"Tina was invested in those fights, just as she was when helping me with materials when moving legislation in Illinois, like our successful effort to pass a two-person crew bill in 2019. Tina will be sorely missed by myself and our entire board, but I wish her and John a long, happy and healthy retirement. On behalf of our Illinois Legislative Board, congratulations Tina on a well-deserved retirement!"  
"Tina's work for our members has resonated in a way that affects more than our operations in Illinois," said Jenny Miller, chief of staff in SMART-TD's National Legislative Department in Washington, D.C. "I've known and worked with Tina for over 20 years. Whenever I needed something, or a question answered – she was just a friendly phone call and email away from coming to my assistance. A major part of our victories in the National Legislative Office hinges on working closely with the state legislative boards.  Tina was a very important part of that successful relationship, and I'll miss her a lot." 
SMART-TD is indebted to Sister O'Brien, and we hope she and her husband John have a long and happy retirement full of all the travel and time with grandchildren that they can handle.