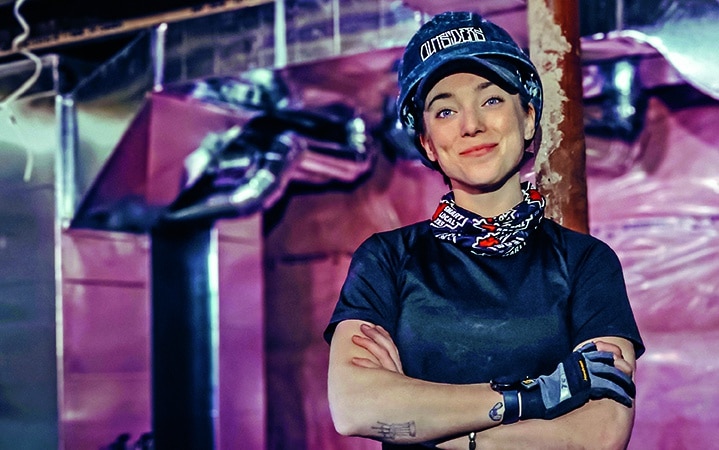 Samara Sampson is an apprentice at Local 285 in Toronto, Ont. who has been in the trade for five years. The SMART Women's Committee sat down with Samara to learn more about her and the work she does. You can visit www.SMART-Women.org to read her story and the stories of her fellow sisters.
What unique strengths do you bring to your trade?
I am a forward thinker and good at working under pressure.
What do you love to do when you're not at work?
When I am not at work, I love packing a day bag, some food, and my dog into my truck and driving out to a new conservation area to explore.
Goals in the future — any ambitions or changes to your career, growth or education?
I have big dreams and goals for myself with SMART, and I look forward to a very long, prosperous career wherever it might take me.
What surprised you about your trade?
How much you can do in the trade: you can design, fabricate, weld, install, test, etc.
What do you find frustrating about your job/trade?
The most frustrating part about my job has got to be a tie between running out of material and unsolicited spectators.
What's the coolest job you've worked on?
I worked on a huge mansion, complete with a theater, billiard room, huge hanger garage and — best of all — the lift in the driveway that takes the vehicles down to the underground garage.
What traits do you think a good sheet metal worker has?
I think a good sheet metal worker is reliable, efficient, good at math and ready to work.
Why sheet metal?
Metal work and welding has always been an interest of mine, and after taking the welding program in college, Local 285 made me see how much opportunity and growth there is within the union.
Tool you can't live without?
The tool I can't live without has got to be my hands, for sure.
Best advice you got as an apprentice?
The best advice I've gotten as an apprentice is to "get good first, get fast second." This is also advice I would give to new apprentices.
What are your thoughts about Tradeswomen Build Nations (TWBN)?
I think that TWBN is a great opportunity for tradeswomen to meet each other. We are often the only one in the classroom as an apprentice and the only one on the jobsite. Any opportunity to meet and network is truly awesome. Unfortunately, due to COVID I have only taken part virtually, but I can't wait to be a part of the next TWBN in person. I will be there!
Career fairs, SMART Army, volunteering?
I am involved with a provincial tradeswomen committee, and I lead a group of tradeswomen in a Lean In Circle. Any opportunity I have to meet other tradeswomen, especially SMART women, I will take it!