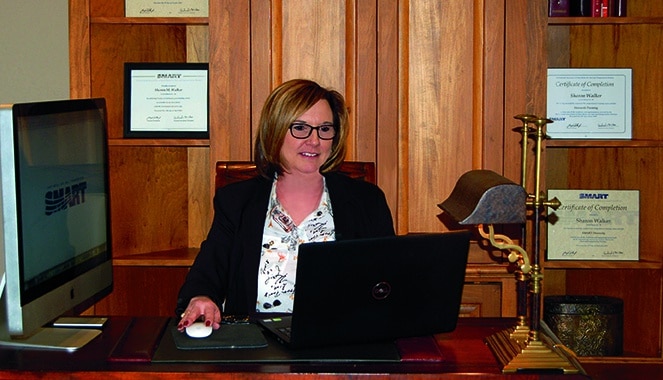 Sharon Walker is from Georgetown, Ohio. She was hired by Dualite, Inc. in 1985 and joined Sheet Metal Workers Local 183 that same year. As a member of Local 183 she served on the executive board from 2005–2008, the year Local 183 merged with Local 24 — covering 49 counties in Ohio, 30 counties in Kentucky, five counties in West Virginia and four counties in Indiana. She also served as a member of the CBA negotiating committee at Dualite
In March 2018, Sister Walker was elected as the production business representative for Local 24, becoming the first female officer of the local. Since being elected to that position, she has been appointed as the recording secretary of the Standing Production Committee and later became the chairperson of that committee.
Current title/position?
SMART Local 24 Business Representative
Years in the trade?
35
What unique strengths do you bring to your trade?
Leadership skills and organizational skills to meet deadlines and production schedules.
What do you love to do when you're not at work?
When not at work, I love sports (especially baseball), crafting and antique shopping.
Have you been in a leadership position?
I have been on the executive board of our local union and a member of the collective bargaining agreement negotiating committee while working at Dualite. Since becoming a business representative I have been the recording secretary of the Standing Production Committee, and I am currently the chairperson of that committee. I was appointed to the Union Labels Committee at the 2019 SMART Second General Convention. I am the production vice president of the SMART Recruitment and Retention Council, vice president at-large of the SMART Production Workers' & Sign Council, chairperson of the SMART Local 24 Women's Committee, project coordinator of Local 24 for SMART Mentoring Women's Project and a member of the SMART IA Women's Committee.
Have you been in a union position?
Production business representative for SMART Local 24 since March 2018.
Goals in the future — any ambitions or changes to your career, growth or education?
I would love to educate more members on the benefits of becoming a union member and a leader within their local, and get them more involved in union activities.
What surprised you about your trade?
How many long-time employees and friends I would meet while on this journey.
What do you find frustrating about your job/trade?
How little some members know about the benefits of being a union member.
What's the coolest job you've worked on?
When I worked at Dualite we were the official sign company for the Cincinnati Reds. I did installation work and made signs for Great American Ballpark.
What traits do you think a good sheet metal/production worker has?
Good attendance and willingness to learn as many different jobs and skills as possible.
Why sheet metal/production?
I came from an art background and thought it would be interesting to work in a sign shop.
Tool you can't live without?
Definitely a tape measure. I don't work in the shop anymore, but I still carry a tape measure in my purse.
Best advice for an apprentice?
Look at the long-term benefits and not the short-term.
What are your feelings on mentoring?
I feel that mentoring is very important. In today's world there are so many young people who need someone to guide them in the right direction, not just at work but in life.
Tell us about your women's committee
Local 24's Women's Committee is a combination of production and building trades members. I feel this is a benefit because the members get the chance to learn how things work in both sectors of our local.
It seems that SMART is very supportive of women joining (and staying) in their union. Do you agree?
I agree 100%. SMART has formed the Recruitment and Retention Council to address these issues for women and minorities.
Are you involved in career fairs, SMART Army, volunteering…?
I have attended career fairs with our JATC coordinators and worked on SMART Army projects in conjunction with our local's Women's Committee.