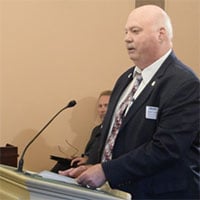 Ohio State Legislative Director Stuart Gardner reports that we need some activism to push H.B. 186, which is comprehensive railroad safety legislation, over the line and out of the Ohio House Transportation and Public Safety Committee.
First, he is seeking photos of example of good and poor lighting conditions in yards to submit to state representatives in regards to H.B. 186. Please email those to: smartunionoslb@gmail.com.
Also, after five hearings on the bill, some Republican representatives on the committee remain undecided about the need for this legislation, especially after carrier testimony claimed that it would hinder their ability to operate and be too costly to them to improve yard lighting and walkway safety.
Gardner requests that members contact their county commissioners and explain to them why their state representative needs to support this bill.
H.B. 186 deals with:
Blocked crossings
Two-person crews
Yard lighting
Yard walkway safety
"Anything that is worth saving takes effort from everyone involved," Gardner said. "It's all hands on deck, battle stations. Take a stand, and be heard!"
The bill was first heard by the committee in September, and SMART-TD members as well as members from the BLET have stated the case for the bill on a number of occasions.
But now, state representatives Doug Green, James Hoops, Don Jones, Jeffrey LaRe, Susan Manchester, Gayle Manning, Riordan McClain, Tom Patton and Reggie Stoltzfus need to hear it from someone in addition to rail workers, who already know how important this issue is.
Those people are the county commissioners from 22 different Ohio counties.
"The topic that should really resonate with these county commissioners is the blocked crossing issue," Gardner said. "With these crossings being blocked by the carriers by longer and longer trains, it prevents public service vehicles — police, fire and EMS from reaching their destinations in a timely manner, without any additional delay, a delay that may have deadly consequences for those that need the help.
"Now is the time for all of us exercise our collective strength," he said. "Please ask those county commissioners to encourage the representative in their district to support H.B. 186. This is a common-sense approach to railroad safety, that we need their support with."
The list of commissioners is available here.