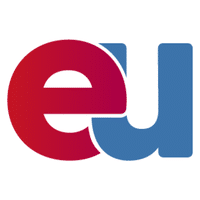 When an accident occurs and one of our members is on site — be it a bus operator or rail conductor — it often falls on that SMART Transportation Division member to provide assistance as the FIRST responder to the situation.
The member must assess and relay information about the incident to rescue crews and law enforcement personnel who are dispatched and, if able, provide potentially life-saving aid and comfort to any victims.
When dealing with accidents involving buses or trains, victims often have traumatic injuries as a result. These incidents are not going away, especially with all the distractions posed by smartphones or a reduction of situational awareness due to headphones or earbuds to members of the public who go near roadways or the rails.
In 2017 and 2018, there were more than 1,000 trespasser-related casualties (injuries and deaths), according to Federal Railroad Administration data. Through the third quarter of 2019, there have been nearly 900 casualties reported.
Grade-crossing accidents involving vehicles and pedestrians reported to FRA occurred at a rate of more than 2,000 annually each year from 2016 through 2018. Through the third quarter of 2019, FRA reports more than 1,600 of these incidents.
But it's not just the lives of trespassers and drivers who encounter a grade crossing potentially in danger from an unexpected emergency.
Having two people in the locomotive cab of a freight train leaves just one person left to assist the other should they be in need of help. Train crew members can have a medical event while performing service. Bus and rail passengers also can have such an event due to an accident or a violent incident that occurs in the presence of our members. And let's not forget that a medical emergency can happen anytime and anywhere to anyone at home or out in public.
Preparation and training in these situations are invaluable.
With this in mind, member David Herrmann of Local 446 (Cheyenne, Wyo.), a Union Pacific conductor since 1990, wrote to the SMART-TD President's Office with a suggestion:
"One of the conductor's responsibilities is to walk back after a train hits a car on a crossing," he wrote. "Since 1988, I have been CPR qualified. I think it would be a good idea for every conductor to be CPR qualified to be a first responder, just in case.
"Even if the tracks are right near the highway, which in Wyoming they are not, a response team could take a long time to get there."
The suggestion from Brother Herrmann to learn CPR and first aid, a sensible and potentially life-saving one, applies to all members regardless of where they work.
Just ask Thomas E. Baker, a conductor for Veolia/Tri-Rail and a member of Local 33 (Fort Lauderdale, Fla.), who put his knowledge of CPR and first aid into action during an incident February 15, 2014.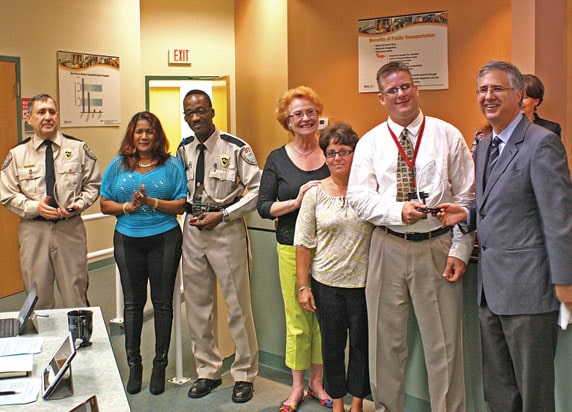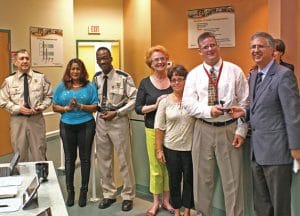 On that day, he saw a woman collapse and fall down a stairwell onto a station platform in south Florida. With a background in the military and law enforcement, Baker was equipped with the knowledge and training needed to save the 65-year-old woman's life.
"It was something that came natural to me," he said. "I knew that she was in major trouble."
He rushed down to the platform and performed CPR for 15 to 20 minutes before emergency responders arrived. The defibrillator on the train was not functional, but his exhaustive efforts saved a life. The woman survived.
Baker said his carrier now requires employees to be certified every two years in CPR, but that is not the case for all carriers, and he reminds his fellow members that the knowledge from taking a CPR/emergency first aid course is useful always and everywhere.
"You don't bring just a hammer to a jobsite. The more tools you have in the toolbag, the more useful you are," Baker said. "The more we know, the better off we are — it could be one of your co-workers whose life you save.
"It's something I've always embraced."
SMART-TD recognizes this as well. Within days of receiving conductor Hermann's suggestion, Ralph Leichliter, an administrative assistant in the TD President's Office, had reached out to Emergency University, which provides online training geared towards transportation employees, including courses on CPR, first aid, and additional training on the topics of blood-borne pathogens, heat-related illness and sleep and fatigue management.
Emergency University was established by highly trained emergency response professionals to educate people on life-saving measures in situations where immediate action is needed.
Multiple online course options are available through them, starting as low as $29.95. Choose the course you'd like and then enter the promotional code SMARTUNION at checkout. Successful completion of the online courses provides national certification for two years in CPR and first aid, meeting and exceeding the standards set forth by OSHA, the American Red Cross and the American Heart Association.
The descriptions for discounted packages, including the course package for rail/transportation workers, are available below:
By going through the Emergency University online training or taking part in CPR or first-aid training offered by organizations such as the American Red Cross or the American Heart Association, we can continue to prove every day, without a doubt, that the public, our co-workers and America's roads and rails are safer with SMART-TD members aboard.