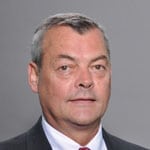 John Previsich has been elevated from International vice president to assistant president by the UTU Board of Directors, succeeding Arty Martin, who retires Sept. 1.
UTU International President Mike Futhey said of Martin's departure, "It is difficult to lose a talent like Arty Martin with all the institutional knowledge he has gained through his years of service to UTU members. We certainly wish him and Cindy the best on their retirement adventure.
"In turn, we are truly fortunate to have someone like John Previsich willing to take on the responsibilities of assistant president," Futhey said.
Previsich, age 58 and a member of UTU Local 31 (San Jose, Calif.), began his railroad service with Southern Pacific (now part of Union Pacific) in 1973, working in yard, road and engine service. He currently holds seniority as a switchman, brakeman, conductor, fireman and engineer on UP, and worked in commuter and long-distance passenger rail service for 10 years.
He was elected to numerous positions, including local chairperson, vice general chairperson and general chairperson — the latter to which he was elected five times by acclamation — representing brakemen, assistant conductors, conductors, firemen, hostlers, engineers and train dispatchers on short lines, passenger lines and Class I railroads.
As an elected Local 31 delegate, Previsich attended International conventions in 1991, 1995 and 1999. Additionally, he served on the peer support committee for UP's Operation Red Block (1993 to 1998), UP's Safety Assurance and Compliance Program, chairperson of the UTU's Union Pacific General Chairperson Association for three terms (2002-2006), and as the UTU's representative on Southern Pacific's 401(k) Plan board of directors.
Previsich was elected an International vice president in 2007 and re-elected in 2011. His assignments have included assisting general committees on UP, BNSF, Kansas City Southern, CSX, CN/IC, Canadian Pacific, Delaware & Hudson, San Joaquin Valley Railroad, Kyle Railroad, Nebraska Central, Birmingham Southern, Amtrak, Progressive Rail, Connex, Terminal Railroad of St. Louis, Louisiana & Northwest Railroad, Dakota Minnesota & Eastern, Great Lakes Aviation and Lynx Aviation pilots' group.
He also was assigned to assist the National Legislative Office in passage of the Rail Safety Improvement Act of 2008, and serves on behalf of the UTU on the act's safety advisory committee, the FRA Medical Standards Working Group, the Positive Train Control Advisory Committee and the Close Call Reporting System (C3RS).
He and his wife, Kathy, have four children.
Arty Martin
Arty Martin, age 66, is a fourth generation railroader, having been elected assistant president in 2007 and re-elected in 2011.
He signed on with Union Pacific in Pocatello, Idaho, in 1966 while attending Idaho State University, where he earned a degree in business administration, with a minor in labor law. An Air Force veteran, he also played minor league baseball as a catcher, including one professional season in Alaska.
Martin was promoted to engineer in 1975. Frustration over railroad treatment of employees encouraged him to run successfully in 1977 for UTU Local 78 vice local chairperson, representing engineers. He subsequently was elected vice general chairperson and general chairperson. In 1992, Martin merged the enginemen general committee with one representing conductors, brakemen and yardmen, and today that general committee represents more than 5,000 UP train and engine workers.
His mother, father and grandfather were UP employees, and his great-grandfather ran steam locomotives on New York Central Railroad (now part of CSX).
Martin and his wife, Cindy, have four children, including Brian who is a UTUIA field supervisor, and Dallas, who is a UP conductor in Portland.
Arty Martin, above, during his minor league baseball playing days.