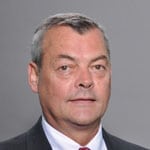 John Previsich has been elevated to the position of president of the Transportation Division of the International Association of Sheet Metal, Air, Rail and Transportation Workers following the retirement of Mike Futhey.
Previsich becomes the second president of the SMART Transportation Division and the eighth leader of what was formerly the United Transportation Union. He is a member of Transportation Division Local 31 in San Jose, Calif.
According to the current UTU Constitution, Article 2 states that "Vacancies occurring in positions not subject to attrition shall be filled as follows: President – By the Assistant President."
"It is with immeasurable pride and humility that I accept elevation to the position of president of the SMART Transportation Division. This is an honor that I do not take lightly," Previsich said.
"I recognize the immense responsibility that comes with this office and I pledge to all of our members that I will continue, as I have always done, to serve in a transparent and effective manner, with the strong leadership that is essential to secure and protect the interests of our membership."
Previsich began his railroad career with Southern Pacific Transportation Company, where he commenced work as a train service operations employee in San Francisco, Calif. He later transferred to engine service and achieved certification as both a railroad conductor and locomotive engineer.
Previsich started doing work as a local union officer in the 1980s. Thereafter, he moved into a system-wide position as a general chairperson in the early 1990s, followed by his election to International vice president in 2007. He was re-elected in 2011, elevated to the position of assistant president in 2012 and assumed the responsibilities of the general secretary and treasurer position on Jan. 1, 2013.
During the course of his career, Previsich has advocated on behalf of his members in mergers and consolidations in the rail and airline industries, 13(c) transactions, divestitures, national and local contract negotiations and countless arbitrations and mediations, securing and defending collective bargaining agreements on properties large and small.
Having a special interest in transportation-industry safety issues, Previsich is the SMART Transportation Division representative on the Federal Railroad Administration's Rail Safety Advisory Committee and has served on numerous subcommittees associated with RSAC.
In addition, he was appointed by the secretary of the Department of Transportation to the National Freight Advisory Committee, a cabinet-level group that reports directly to the secretary on MAP-21, a program charged with assisting in the development of administration policy on a national freight plan for the 21st century.
At the conclusion of the SMART Transportation Division's Boston regional meeting July 3, Futhey announced he would step down from office, pending resolution of arbitration proceedings regarding the union's constitution. His retirement was effective Sept. 30.