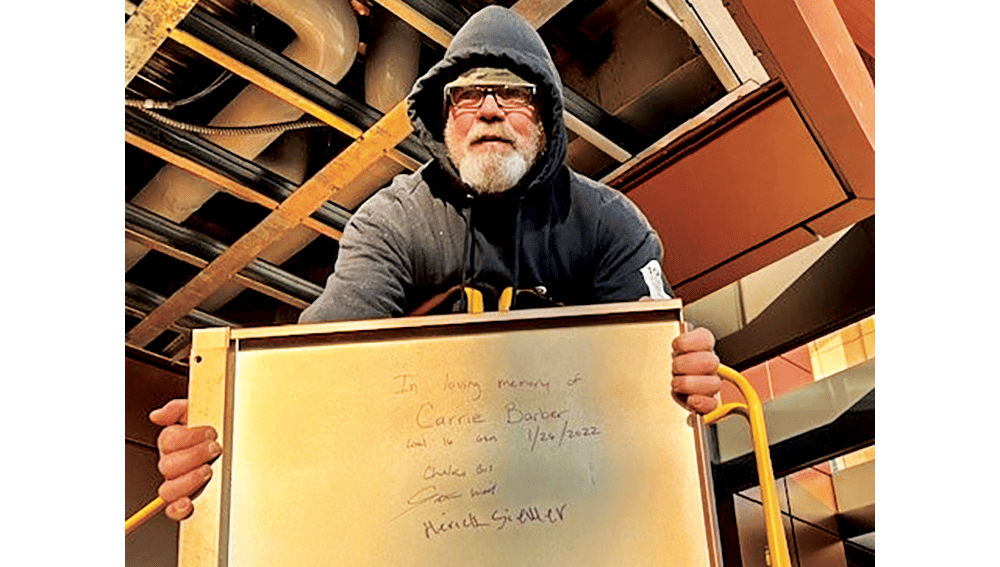 A Local 16 member holds a piece of metal dedicated to Carrie Barber.
---
Chelsey Bus recently graduated from her apprenticeship at Local 16 in Portland, Oregon. During her five years of training, she experienced much of the same adversity that other women in the trades face; although SMART has made great strides to recruit and retain women, they remain a minority of the membership. That's what makes stories of "I Got Your Back" solidarity – including Bus's – so vital for the growth of our union.
When Bus began her apprenticeship, she said her duties involved menial work, like moving materials. But she began to see a shift in her job responsibilities around the time she was assigned to work at General Sheet Metal in Clackamas, Oregon, on an architectural sheet metal job.
"I didn't have a lot of experience working on the architectural side," explained Bus. "So I was kind of surprised when I was given the assignment."
Nevertheless, Bus thrived. Over the course of her apprenticeship, she worked in residential HVAC, commercial HVAC, TAB, a mechanical shop and an architectural shop.
While working on an architectural project at General Sheet Metal, her friend and project manager, Carrie Barber, passed away unexpectedly.
"During that period, immediately after he passed away, people started telling me that he had gone to bat for me. He stuck his neck out and believed in me and got me placements. I had no idea," Bus said. "His encouragement and faith in me were really touching. He had my back; I didn't even know it."
Bus said Barber's faith in her was inspiring, and she plans to pay it forward – both on and off the job.
"I plan to make an effort to be that person for others," she said. "I want everyone to experience that level of support, that same feeling that I've got your back."