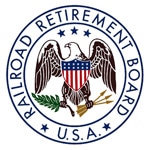 The office of Walter Barrows, the labor member of the Railroad Retirement Board (RRB) announced changes to the board's 2018 slate of informational meetings in a release distributed Wednesday.
Rail union officials and any interested rail employees within five years of retirement and their spouses are able to register for combined informational conference/pre-retirement seminars this year at the following dates and locations:
• March 23 in Roseville, Calif.;
• May 11 in Altoona, Pa.;
• Sept 21 in Bellevue, Wash.;
• Nov. 16 in Houston;
• Dec. 7 in Jacksonville, Fla.
The RRB still plans separate conferences and seminars at additional locations across the country. The board will post a schedule in the future on the RRB's website (www.rrb.gov).
RRB field service managers will lead the combined programs and present the various railroad retirement benefits available to employees and their families and informational materials to attendees. The combined programs will close with a separate brief presentation spotlighting railroad unemployment and sickness benefits that will be conducted for those rail officials in attendance only.
More details on the informational programs, including registration forms, dates and exact meeting locations, will be available at www.RRB.gov under either Informational Conference Program or Pre-Retirement Seminars.