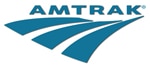 Congressional conference committee members cobbling together an actual fiscal year 2014 federal budget have reportedly agreed on budgetary numbers fairly favorable to Amtrak and Transportation Investment Generating Economic Recovery (TIGER) programs. Federal high speed rail funding, however, is omitted entirely.
Amtrak's FY14 budget numbers include $340 million for operations, and $1.55 billion for capital (including debt service); up to $50 million in capital can be "reassigned" to operating needs if necessary.
Read the complete story at Railway Age.