SMART Transportation Division Alternate Legislative Director Greg Hynes was appointed to the federal Department of Transportation's Advisory Committee on Human Trafficking (ACHT) in early October.
"Your experience and leadership as a representative of rail and labor will add valuable insights that will help further ACTH's mission," Secretary of Transportation Elaine L. Chao said in a letter announcing Hynes' appointment.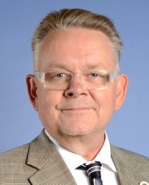 The committee, required by the Combating Human Trafficking in Commercial Vehicles Act, consists of stakeholders from trafficking advocacy organizations, law enforcement and trucking, bus, rail, aviation, maritime and port sectors, including industry and labor.
"Members of this committee have extensive experience in combating human trafficking, and the Department looks forward to receiving their recommendations and reports," Chao said in a DOT release.
According to the release, the new 15-member committee is to provide recommendations to Chao before July 3, 2019 on:
Strategies for identifying and reporting instances of human trafficking.
Recommendations for administrative or legislative changes to use programs, properties, or other resources owned, operated, or funded by the Department to combat human trafficking.
Best practices for state and local transportation stakeholders based on multidisciplinary research and promising evidence-based models and programs, including sample training materials and strategies to identify victims.
The committee's first meeting will be announced at a future date.
A member of Local 1031, Hynes has served as alternate legislative director since 2014 and has served on the Federal Railroad Administration's Railroad Safety Advisory Committee (RSAC). His complete biography is here.