The Indiana South Shore Line, operated by Northern Indiana Commuter Transportation District (NICTD), is finally going to be revamped, according to Portage.Life.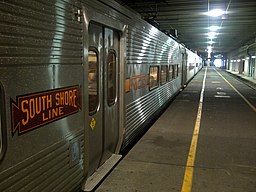 The very last rider boarded from the 11th Street warming shelter and the train left at 2:18 a.m., Saturday, May 1, and the train rolled to a stop at its destination, the Michigan City station.
According to the article, the 11th Street stop used to be a station, instead of just a warming shelter, and was operational from May 1927 until its closure in 1987. The stop will now be closed down while a new 11th Street Station is constructed along with a parking garage.
But that's not all that is happening at the South Shore Line, the NICTD is finally getting their double-track program off the ground. According to SMART-TD Indiana State Legislative Director Kenny Edwards, NICTD is going to build 20 miles of double track starting in Michigan City and going westward toward Chicago.
"This is going to reduce the total travel time from 1:40 to 1:00. Along with this double-tracking, there is an eight-mile extension from Dyer to Hammond, Ind. In all, 50 jobs will be added to NICTD alone!" Edwards said.


Edwards said that the new track will begin being laid in June.
These changes are a long time coming. Funding was approved under the Obama administration, but the Trump administration put the brakes on the project and made the railroad reapply for funding. Now that the Biden-Harris administration is in control, the project again has a green light.
"This is the future for union job growth and the sustenance of Railroad Retirement," Edwards added.
Click here to read the full article from Portage.Life.