Phyllis Reed of Florence, Ky., passed away Wednesday, January 3, 2018, at St. Elizabeth Hospital in Florence. Phyllis was born Aug. 17, 1939, to the late Victor and Mary Osborn.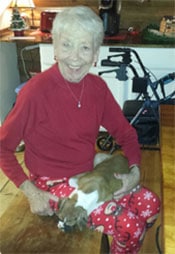 She married former B&O General Committee General Chairman J.T. "Terry" Reed in 1962, he preceded Phyllis in death on March 5, 2013. Phyllis was self taught and a very motivated person. She enjoyed cooking, crafts and the occasional political debate with her husband.
A visitation is at Floral Hills Funeral Home on Monday, Jan. 8, 2018, from noon until time of the Funeral Service at 2 p.m. Burial will immediately follow in Floral Hills Memorial Gardens. Phyllis is survived by her daughter Melody and and son in law Alex Warner; grandson Dave and his wife Tracy Warner; granddaughter and Shelby and her husband Greg Turner; granddaughter Alison Warner; great-grandchildren Joshua, Tristan and Gavin Warner. Please visit www.floralhillsmemorialgardens.com to leave online condolences.