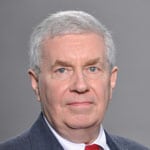 As I prepare for retirement, there are many things on my mind about the future of our industry and transportation workers that I have had the honor to represent during my career.
The most important item on my agenda today, and every day during the past 31 years that I have been a legislative officer, is that our members are treated fairly when decisions are being made concerning safety, job security, health care and pensions.
Looking back on my career that started in 1966, change is the only constant thing I've witnessed.
The hours of service law was reduced from 16 hours to the present 12. We went from 48 Class I railroads to the present seven. There has been a dramatic expansion of public transportation around the country, and the best news of all is that there has been a significant reduction in injuries and fatalities of transportation workers.
Our union has worked hard on improving safety and expanding passenger rail and that focus will continue long after I'm gone. Just as there have been constant changes in our industry over the past 31 years, constant changes will continue for the next 31 years and beyond.
The good news is the vast majority of rail and transit workers in America are organized and because they have a union, they can demand that future changes benefit them as well as the CEO and company investors.
Perhaps the most significant advances we have seen in the past decade are that of communications. When I hired out, they hooped up manually-typed train orders to passing trains and you stuck your arm out the locomotive window at 60 mph to grab them.
Today, information is instantaneous and constantly being updated. I'm convinced that as communication and information technology improves, our rail members will all have predictable work schedules and our transit members will have more appropriate work schedules that include frequent bathroom breaks.
With improvements in information technology, there is no excuse for our members to be uninformed about what is taking place in our industry and in our union. But it's up to you as a member to make some effort at staying informed.
How you and our union react to future changes will directly impact your safety, your work environment and your paychecks. I'm convinced that when our members are involved and work with other members through our union, we are up for the challenge.
The good news is we already have a strong legislative presence in Washington and in every state capital and capable contract-negotiation teams on our general committees and at the national level.
In closing, I believe "knowledge is power." I urge you all to stay informed and participate in your union by attending meetings and running for elected office. By hanging together and working through our union, you and your co-workers can benefit as well as the CEO and corporate investors when changes do occur.
I'm "pulling the pin" and I'm able to retire because of our union's efforts to establish and maintain the best pension in America, Railroad Retirement. While I will be retired, I will be paying close attention from the sidelines.
Thanks to all of you who have made my career so enjoyable. Farewell. 
James A. Stem Jr.
National Legislative Director
SMART?Transportation Division