A union sister is trying to help the most important woman in her life receive the care she needs after two devastating strokes.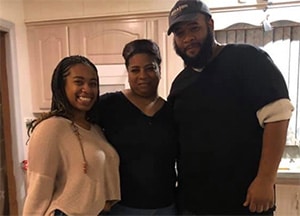 Member Jenell Rose of Local 1558 (Bergenfield, N.J.) has started an online fundraiser after her mother Kecia Jordan, the president of Local 1558, had a pair of strokes.
The medical crisis began when Sister Jordan, 51, caught COVID-19 and was unable to work for Rockland Coaches.
"Within a few days of her diagnosis, COVID-19 caused her to have a stroke," said General Chairperson Richard Finley (GCA-RCL).
Sister Jordan was hospitalized as a result of the first stroke and was receiving care when she had a second stroke. She has been in recovery ever since and three weeks ago entered a rehabilitation facility, Finley said.
"Kecia has been a valued member of our local. Fortunately, she is starting to recover," Finley said. "She is learning how to do all the basic stuff that we have taken for granted in our lives. Due to this medical condition, this has devastated her financially."
Sister Jordan not only is a local president. She works with Finley as GCA secretary and is also secretary for LCA RCL1. Most importantly, she's an inspiration and guiding light for her daughter and fellow union member.
"She is an amazing woman, the biggest heart and forever my number one supporter. I would do anything to have my mother back to her normal self," Sister Rose wrote on GoFundMe. "I know everything takes time so I'm here for anything & everything she needs. We as the family are doing the best we can to maintain all that she has as well as fixing her home so she's able to recover as best and fast as possible."