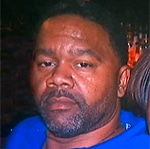 Norfolk Southern conductor and UTU member Jerrick A. Jackson, 47, was shot multiple times and killed May 7 in an apparent robbery at his home in Atlanta.
Jackson was a member of Local 1245 in Atlanta and the local has established a memorial fund to assist his family, Local Secretary & Treasurer Jay C. Roy reports. Contributions payable to the Jerrick Jackson Memorial Fund, c/o Kim Little may be sent to the Jerrick Jackson Memorial Fund, c/o UTU Local 1245, 75 Biltmore Ln., Dallas, GA 30157.
According to a report by the Atlanta Journal Constitution, Jackson and his fiance were returning home from a fast-food restaurant around 1 a.m. when they were approached by several males with guns drawn.
After robbing Jackson and the woman of a wallet and purse outside the home, the suspects ordered the couple inside the home, where Jackson and one of the suspects began to fight, according to police. One of the suspects then shot Jackson several times before the suspects left the home.
Jackson's soon-to-be step-daughter, Anbiya Mitchell, told CBS Atlanta News she had no idea why anyone would want to rob and murder the man she called dad.
She said she was upstairs when she heard her mother and Jackson being forced inside their home. "At that time, I barricaded myself in my room and call 911," Mitchell said. "I loved him. And I really do consider him a hero because he did protect me from the four guys getting upstairs.
Jackson was the younger brother of Bishop Wiley Jackson, founder and pastor of the Gospel Tabernacle Cathedral. In a statement released May 7, Wiley Jackson asked that those responsible for his brother's death to surrender.
"To the young men who committed this senseless act, as a man of faith and a minister of the Gospel of Jesus Christ, I have already forgiven you," he said. "But I ask you to turn yourselves in so that you can begin the process of true redemption."
Roy said Jackson was a great person who genuinely cared about others and offered any help he could give. "That guy was well liked by everybody. Everybody down here is just in shock," he said.
Roy said Jackson hired out with Norfolk Southern in May 2006. He was qualified as a conductor on the Georgia Division, Inman Yard/North District on Oct. 1, 2006, and has been an active member of Local 1245 in Atlanta since Dec. 1, 2006.
A service will be held for Jackson on Monday, May 13, at 2 p.m. at The Gospel Tabernacle Cathedral at 277 Clifton St. S.E. in Atlanta.