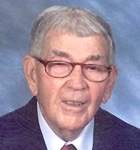 Jesse E. Carr, 95, retired general chairperson of former Southern Railway – Lines West General Committee of Adjustment GO 903 died Dec 26.
A member of SMART Transportation Division Local 338 at Chattanooga, Tenn., Carr retired in 1982 following 41 years of continuous membership and railroad service.
Carr was a veteran of the U.S. Army, having served 33 months in Iran with a railway operating battalion. He was a member of the Chattanooga Lodge #199 of the Free & Accepted Masons for over 70 years, the Order of the Eastern Star and Southern Railway Retirees.
Graveside services were held Dec. 28 at Hamilton Memorial Gardens in the Chapel of Devotion in Hixson, Tenn.
He is survived by his wife of 69 years, Maxine.