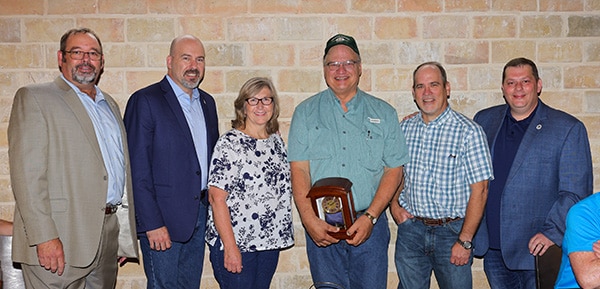 After 44 years with Union Pacific and Missouri Pacific, John Dunn of Local 756, a great advocate for members in the great state of Texas in which he lives, has called it a career.
Dunn joined our union back in November 1977 after hiring on with Missouri Pacific in July 1977.
That began a long association with the union where Brother Dunn served in a number of leadership positions, including six years as a vice general chairperson of GCA-927, 16 years as local chairperson for LCA-927, 13 years as an alternate legislative representative and two years as his San Antonio local's legislative representative. He served as the assistant Texas state legislative director starting in February 2020, and even had a stint on the SMART-TD Executive Board prior to his retirement, effective May 31, 2021.
"I guess I'm well-known because I've represented so many people," Dunn said when contacted as he drove home from a union meeting at Local 1670 in Laredo, Texas, a mere four days before pulling the pin. "I've been doing this for so long … my reputation preceded myself."



Brother Dunn became an engineer in 1980 and started a notable streak of union activism in 1987 after his uncle, the local delegate, suggested he run for alternate delegate. Dunn ended up attending his first convention in Miami Beach, Fla., to start a streak of nine conventions that "Big Bad John" attended as Local 756's delegate, taking the time to kick off his opportunities to speak with a reminder to all that he hailed "from the great State of Texas."
In 1997, Brother Dunn began to get more and more involved in the representational aspect of things by attending regional meetings, getting to know Designated Legal Counsel Steve Young and always looking to educate himself so that he could defend people when targeted for alleged infractions by carriers.
"I was very lucky that they had regional meeting seminars – I went to those," Dunn said. "A lot of times they were standing room only – there was a wealth of information, and I took tons of notes. All that information is very helpful. There is so much information you can use. Every time you go you can get something new. The guys who are doing it now are doing a phenomenal job. Education is vital to be a successful local chairperson."
He learned things well, and it got to the point where Dunn even had people from other rail labor organizations asking him to represent them. He also got to see the sore spots where carriers needed to improve their treatment of workers.
"Attendance – railroads are really hitting people on that," Dunn said. "The railroad wants more and more and more out of their employees."
Dunn recalled having to defend one worker in a disciplinary hearing for an attendance violation years ago who took time off because his young child had died.
"Things are going to happen to workers' lives outside of work and there needs to be a change in attitude on the part of the carriers," he said.
His dependability and advocacy in defending and serving his fellow union brothers and sisters also earned him the respect of his peers.
"John was the go-to guy for everyone in and around San Antonio," Texas State Legislative Director Kamron Saunders said. "He worked tirelessly for our membership."
Often, his family life and his union commitments crossed over. His 25th wedding anniversary plans with his wife Lisa were disrupted because Dunn was assigned to investigate a fatality on the Dallas, Garland & Northeastern short line. He also remembered a time when he had his daughter, then seven, sit off to the side while he was engaged in an arbitration hearing. But all these served as signs of his commitment to represent and help his union brothers and sisters to be treated fairly.
In addition to being honored by Local 1670, Brother Dunn's career also was celebrated May 26 at the Local 756 monthly meeting as more than 50 people, including SMART-TD President Jeremy Ferguson, Vice President Chad Adams, Alt. Vice President Scott Chelette and Saunders, attended the festivities.
"There are so many accomplishments that Brother Dunn achieved throughout the years," Chelette said. "But his drive, motivation, and caring spirit will be missed the most. For the last 21 years or so, John has went to every 'new hire' class held in San Antonio and talked to them about the union and what to expect as a railroader."
Paving the way for a person new to the railroad industry became a mission of sorts for Dunn – one that made a lasting impression on some. After he announced his retirement, Dunn was approached by a yardmaster who recalled the significant impact Brother Dunn had made by introducing him into the union and taking the time to give him the lay of the land.
"I made it a point to welcome them into the union," Dunn said. "I wanted to make them aware that we're here to help them — take them to lunch, give them the contact information that they'd need and they remembered that."
His advice to the newer generation of railroaders and union members is first to not take things for granted — benefits such as insurance and retirement had to be fought for.
"I've always been proud of being a member of this union. Sure there were guys who complained — but where would we be without our union?" Dunn said. "People way before me worked hard and fought hard. People working the road had to pay for their lodging up until 1960. The union got us lodging and meals."
The new members should be welcomed in, learn the culture and learn the job, Dunn said. By going to meetings they can become comfortable, learn and get involved to strengthen the organization from the local level on up.
"Volunteer to do stuff," he urged. "You have to have passion, commitment, ownership and believe in what you're doing. Start off small and attend every union meeting you can. Instead of listening to what's being said in the crew room, go to the union meeting to be properly informed."
"The union is able to do what it's able to do by the strength of its membership. We're only as strong as our weakest link," Dunn said.
The strength he added to our organization was celebrated at no fewer than three local union events.
"I am truly humbled by them making the effort to recognize me," Dunn said. "I have to thank everybody in the locals who have supported me for a number of years and have been so kind in wishing me well. I always refer to them as my 'railroad family' — there are a lot of great men and women out there. I'm leaving the railroad, but I'm not leaving them. It's been a helluva ride — I've enjoyed it all."


Post-retirement, Dunn said he'll be spending more time with Lisa, his wife of 28 years; his daughter, Mallory, who is attending nursing school on a UTUIA scholarship; and his son, Jake, who is a pipefitting apprentice.
Plans will include traveling and reigniting his hobby of welding — Dunn has constructed a massive barbecue trailer in the shape of a steam engine and also has a computerized plasma cutter he might use to craft with as his wife continues to work a bit longer.
"Godspeed John. We love ya, and will miss you, but wish you well in this next chapter of your life!" Saunders said.
The SMART Transportation Division thanks Brother Dunn for his decades of service and wishes for him and his wife, Lisa, many years of happy and healthy retirement.