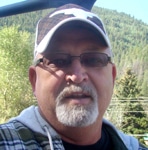 GUYMON, Okla. – Three Union Pacific crewmembers died in a June 24 head-on collision between two freight trains near here that produced a diesel fuel-fed fire so intense that the thick, black smoke could be seen for 10 miles and caused the closing of a nearby small airport and evacuation of a nearby trailer park. The fire burned for more than 24 hours.
Dead are UTU member Brian L. Stone (Local 923), age 49, of Dalhart, Texas; engineer Dan Hall and engineer John Hall (no relation to Dan Hall). Stone had been a conductor since September 2003.
Conductor Juan Zurita (Local 923) reportedly jumped to safety and was uninjured. Engineer Dan Hall is the cousin of Local 923 delegate Randy N. Johnson.
Guymon is some 130 miles north of Amarillo, Texas, on the former Southern Pacific Golden State route linking El Paso with Kansas City. Union Pacific absorbed Southern Pacific in 1996.
The Oklahoman newspaper quoted NTSB member Mark Rosekind that one of the trains – and he declined to specify which — failed to take a siding and that no signal or brake malfunctions were initially found based on preliminary analysis of event recorders. "One train had the right of way," Rosekind said. "We're still getting the data to figure out what was scheduled to happen. There was a side track, and we're trying to figure out what was supposed to be where, and when."
Rosekind said no cellphones have been recovered, but that the NTSB intends to review phone records belonging to the four crew members. Federal regulations prohibit the use of electronic devices, including cell phones, while on duty.
Two members of the UTU Transportation Safety Team assisted NTSB investigators at the scene.
Stone is the fourth UTU member killed on duty in 2012. Local 887 (Harvey, N.D.) member Robert J. Glasgow, 38, was killed May 28 in a switching accident near Kenmare, N.D.; and Local 1383 (Gary, Ind.) member Michal M. Shoemaker, 55, was killed in a switching accident Jan. 30 in Gary, Ind. Los Angeles County Metropolitan Transportation Authority driver and Local 1563 member Alan Thomas, 51, was murdered aboard his bus May 20.
Ten UTU rail members were killed on duty in calendar year 2011, eight in 2010 and eight in 2009.