COLUMBUS – Proponents of H.B. 186, a comprehensive railroad safety bill being considered in the Ohio Legislature, stated their case in force Sept. 10 during a meeting of the state House's Transportation and Public Safety Committee.
Representatives from SMART Transportation Division, the Brotherhood of Locomotive Engineers and Trainmen (BLET) and others testified before committee members for more than two hours about why legislators should back the bill.
"I cannot discuss our effort to secure H.B. 186 — the two-person crew, proper lighting, proper walkways within rail yards and blocked crossing legislation in Ohio without addressing safety," Ohio State Legislative Director Stu Gardner told the committee. "The safety of my members and the people who live in the communities that our rail yards are located in and through which our trains travel and operate will always be my top priority."
Gardner and nine others discussed the safety implications of the bill and the fact that technology would never substitute for the presence of two people in the cabs of freight trains, especially as the rail industry continues to embark on a strategy of lengthening trains while deferring on reinvestment for the sake of increasing the returns of Wall Street investors.
H.B. 186, sponsored by Ohio Reps. Mike Sheehy, a retired rail worker and member of the SMART TD Alumni Association, and Brent Hillyer covers the following safety issues:
Two-person freight train crews
Proper walkways in railroad yards
Railroad yard lighting safety
Blocked crossings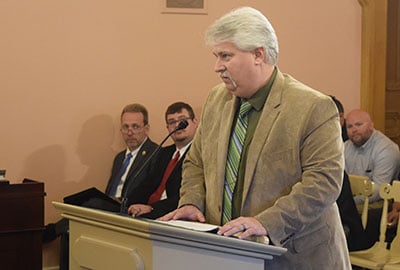 Terry Forson of Local 1397 in Columbus, whose experience with the infamous 2001 "Crazy 88s" runaway incident in Ohio helped to inspire the 2010 Hollywood film "Unstoppable," testified that having two people in the cab avoided a catastrophe on May 15, 2001.
"If there had not been two crewmembers on my train that day, we would not have been able to stop the runaway train; and, given the fact that we were also hauling hazardous materials, who knows how many deaths would have resulted from the train's ultimate derailment?" he said. "The nightmare scenario has happened."
Ohio Alternate State Legislative Director Clyde Whitaker of Local 145 in Columbus went into more detail about a conductor's role, especially when describing the tasks performed during a rail emergency, as well as the hazards posed by inadequate lighting and perilous walkways in the state's rail yards.
"We're not asking for a golf course," he said. "Railroads have always been an out-of-sight-out-of-mind type of industry. You never know that we're there until we make the six o'clock news.
"This is a common-sense piece of legislation — it would ensure the safety of communities and co-workers."
And while the adoption of technology, especially Positive Train Control (PTC), has the potential to help the industry, it just has not functioned as advertised.
Ryan Fitzpatrick, another Local 1397 member who also is an Operation Lifesaver volunteer, said he has witnessed problems with PTC not engaging until thousands of feet after a signal has been passed.
"There's a lot to be desired with Positive Train Control," he said.
He testified as well about seeing a train blocking a crossing for more than 12 hours while he was driving past.
"We need to address these things," he said. "We need to understand that these situations can be life or death for some people."
Also appearing at the hearing were Jair Torres of Local 138 (Lima, Ohio); William Darling of Local 1376 in Columbus; Bob Hagan, a former Ohio senator and representative who now works for the BLET in its Washington legislative department; Timothy Price, the BLET's Ohio state legislative director; and adjunct professor of management and leadership John Nadalin, who teaches at Franklin University in Columbus, was a rail worker for four decades, a former UTU director of strategic planning and a current Alumni Association member.
"Rail carriers are kind of vain to take responsibility of their own mismanagement," Nadalin, a stockholder in CSX, said. "As an investor and a proponent for safe operations as previously discussed, I really don't like what I see today: Making changes that put employees and the public in general at risk should never be allowed."
H.B. 186 will receive a third hearing to feature testimony from opponents of the bill before the legislation is considered by the committee for advancement to the full Ohio House of Representatives.
To watch the entire hearing, visit this link to The Ohio Channel.