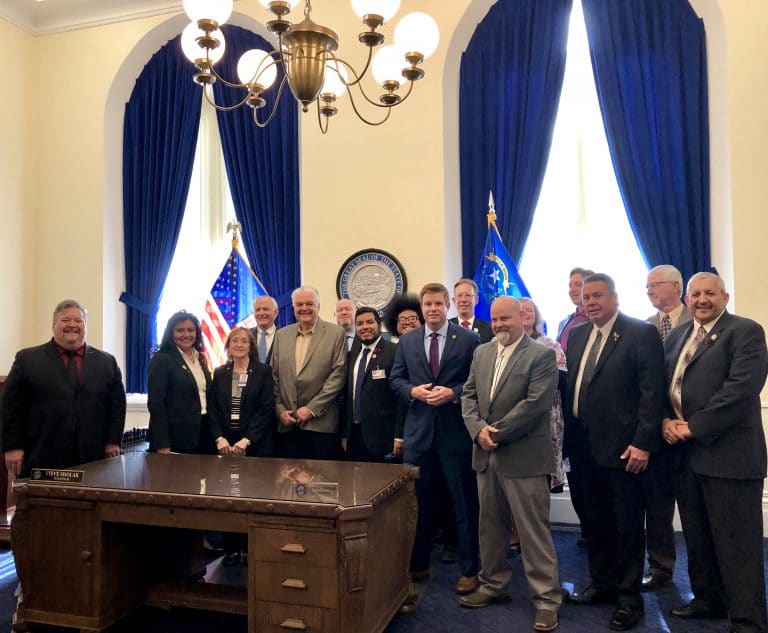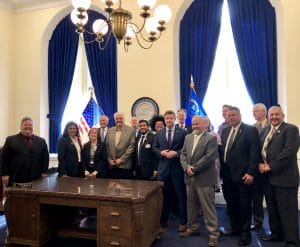 The advocacy and hard work of SMART Transportation Division members and retirees, the Nevada State Legislative Board and a coalition that included Sheet Metal brothers and sisters, other rail unions and safety-conscious members of the public has paid off.
Nevada Gov. Steve Sisolak signed A.B. 337 on May 15. Two-person crews are now required on Class I and II freight trains being operated in the state or the carriers will face steep fines.
The bill's signing caps a massive effort by SMART TD members that spanned years in the face of carrier opposition.
"This law didn't pass by accident. It was the hard work of Jason Doering, our Nevada state legislative director, and others that made it happen," SMART TD National Legislative Director John Risch said. "We all owe Jason and others who worked on this our thanks for keeping train operations safe in Nevada, for not just those who operate trains but for the public as well."
Doering and his board assembled a group of dedicated advocates who helped to spread the important message about how crew size is, first and foremost, about keeping communities safe.
"Many people helped to get the word out about the public safety ramifications of this legislation," Doering said. "Those concerted efforts paid off, and now we've ensured that the state's railways stay safe with two crew members in each freight train's cab."
The legislation was sponsored in the State Assembly by Susie Martinez, a Teamster who, Doering said, "treated him like family" and whose staffer, Carlos Hernandez, assisted in the early stages of getting the bill passed.
Additional backers included Assemblywoman Maggie Carlton, also a primary sponsor of the legislation, as well as Assemblywoman Shea Backus, who testified before the state Senate and expressed strong support during an Assembly Growth and Infrastructure Committee hearing, and Assemblyman Richard Carrillo, another co-sponsor whose father was a United Transportation Union member.
"Really — all of the Nevada Assembly and Senate Democrats, as well as the governor, receive my thanks for their understanding of the important protection to public safety that this law provides," Doering said. "There is too much risk involved in transporting hazardous materials and goods across our country and through our communities to have a single crewmember on trains that are a mile long or even longer."
The law establishes fines of $5,000 for a first offense, $10,000 for a second offense within three years and $25,000 for a third and all other offenses for Class I and II carriers that operate freight locomotives without at least two people in the cab. Hostling and helper services are not covered by the law.
Doering and his board were stung by the 2017 veto by then-Gov. Brian Sandoval, a Republican, of S.B. 427, a prior try at two-person crew legislation that had passed both houses of the Nevada state Legislature.
But a change in leadership brought a new opportunity with Sisolak's election last year.
"No doubt we were disappointed in 2017, but this is a prime example of how elections matter," Doering said. "We cracked open the door with our previous effort and laid the groundwork. With that change in leadership in the state Capitol, it was opened even wider."
The Nevada State Legislative Board especially wanted to thank members from SMART's Sheet Metal Local 88 out of Las Vegas, who helped to amplify the message.
"They were an extraordinary help!" Doering said. "Jeff Proffitt and Alfonso Lopez — we couldn't have moved anything without their support. Sheet Metal put rail labor on the map in Nevada."
Also advocating for the legislation was Fran Almaraz, who helped set up meetings and facilitated a relationship with legislative leadership, Doering said.
Assisting the cause as well were TD Colorado State Legislative Director Carl Smith, who provided guidance after succeeding earlier this year in getting two-person legislation made into law in his state, Dean Mitchell, who helped in researching and targeting the message and the TD Public Relations Department, which helped to compose an op-ed published by the Nevada Independent and put together print material to get the word out about the legislation.
And, as he did with S.B. 427, Brotherhood of Locomotive Engineers and Trainmen's Nevada State Legislative Board Chairman Matt Parker mobilized BLET members to advocate loudly in favor of the legislation.
"It truly was a team effort," Doering said.
A.B. 337 was approved April 23 by the State Assembly by a 29-12 vote and in the state Senate on May 7 by 13-8 margin. Both votes were party line with Democrats voting in favor of the legislation.
Nevada now joins Arizona, California, Colorado, West Virginia and Wisconsin as states that have legislation requiring two people to operate freight trains.
"This successful passage in Nevada proves that our persistence pays off," Risch said. "Concerning two-person crews, the message of public safety did not change from two years ago and will not change going forward. It's that simple. Two crew members are vital to ensuring that these trains are operated safely and that our communities are secure.
"Legislators in Nevada knew this before, and they know it now. As a result of the 2018 election, the leadership in the governor's office changed and now this safety-focused, common-sense bill has been made law."
A.B. 337 takes effect Oct. 1.